Game Lodges: Find the perfect family-friendly one
Find the perfect family-friendly Game Lodges without the hassle! To ensure you have the best safari holiday with your family, you will first need to do research on safari destinations in South Africa. You want to be able to relax, knowing that you and your family are in the best hands.
Here's a list of the top family-friendly South African game lodges to help you out:
Shamwari Private Game Reserve is a big five premier safari and holiday destination in South Africa's Eastern Cape Province. The malaria-free reserve has several lodges with three that cater for families travelling with children.
Shamwari is a natural extension of the Garden Route and has amazing wildlife experiences from game drives to walking safaris. Children from the age of four years old can join on game drives.
With conservation at the heart of the reserve, guests are educated on all its conservation initiatives. The Wildlife Rehabilitation Centre and Born Free Big Cat Sanctuaries are jewels to be discovered at Shamwari.
The reserve has a specialised Kids on Safari program for children. The reserve is also home to one of its kind Kids on Safari Adventure Centre's. With a host of activities to keep the active bodies happy. From climbing walls to ziplines as well as indoor craft activities. Childminders are also available on request.
Situated in the North West Province of South Africa and bordering on Botswana. This big five private game reserve is also malaria-free, making it an ideal option for families. At Madikwe, families are given insight into the amazing conservation efforts in Africa. The reserve has several family-friendly lodges to choose from.
Madikwe has a Kids on Safari program and they also have a clubhouse where they entertain the little ones with a host of activities from baking to arts and crafts. Childminders are available should you want to have an afternoon of relaxation.
In the Western Cape in South Africa, Sanbona lies at the foot of the Warmwaterberg Mountains in the Little Karoo. A mere three-hour drive from Cape Town and is home to the big five.
With a family-friendly lodge that welcomes children of all ages, it's a great family safari destination. There is a Kids on Safari program for children with activities to keep your children entertained, as well as childminders at an additional cost. Although children under the age of four aren't permitted to join on game drives, there are plenty of fun activities for them to do at the lodge.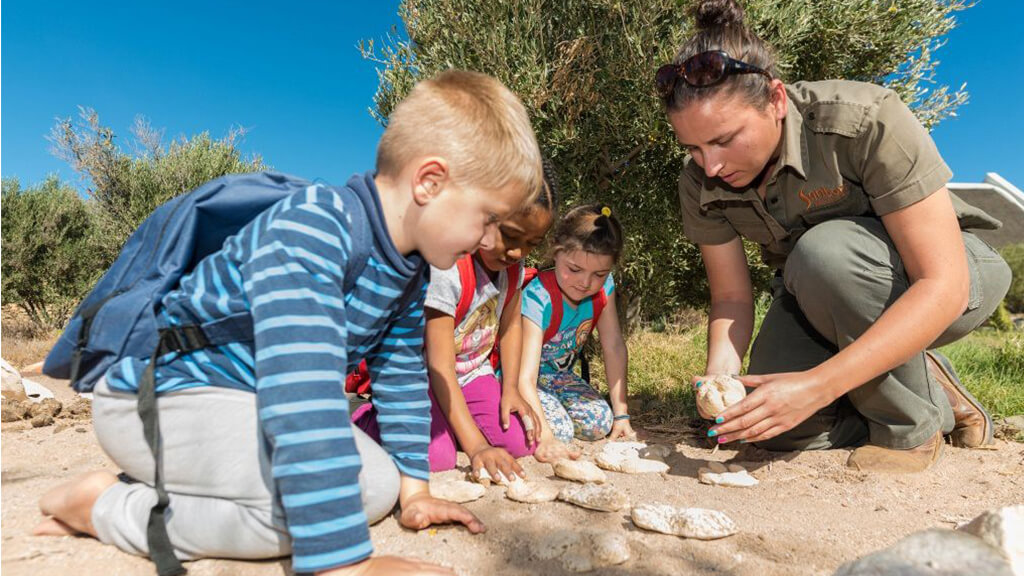 Situated in the Kruger National Park, Londolozi has a children's philosophy whereby kids are individually assessed based on their unique personalities. There are numerous activities for the children to join in on, from tree climbing, archery, fishing, pizza making, storytime and game drives(if your child is six years and older). The reserve also has a 'Cubs Den' where the little ones can play and explore in a safe environment.
Londolozi is however located in a malaria area so the necessary precautions and medications must be taken.
In the Western Cape in South Africa, you'll find Gondwana Game Reserve. This family-friendly reserve welcomes children of all ages at their Luxury Bush Villa accommodation.
Children from the age of six are permitted to join game drives for safety reasons. Children, between the age of six and twelve, are also able to participate in a Junior Ranger Experience.  Its program includes educational game drives, interactive activities, junior ranger packs and completion badges – whilst the younger children's activities will be based around the lodge to stay closer to parents. A childminder is available at an additional cost, should you want to relax around the lodge for an afternoon or two.
Activities at Game Lodges for Children
Safari lodges throughout South Africa are often situated in an isolated area in the wilderness. To put parents at ease, safari lodges have an array of activities at game lodges for children.
Upon arrival at game lodges, most destinations have a kid on safari backpack. They are filled with a booklet full of activities that your allocated ranger will assist you with, a water bottle and a cap. Always making sure that your child is protected from the African sun's rays.
Here is a list of the top kids' activities you can encounter at a safari lodge:
Game Drive Fun
During their stay at a lodge, children can complete their activities booklet filled with tasks to complete with their ranger.
From animal dung collection, to learning about animal tracks in the sand and even the collective names of animals to crossword activities – the book is filled with fun tasks to keep your little ones entertained for hours!
During the three-hour long game drives, your ranger will teach your children all about the many animals found in the area – including reptiles, birds, plants and trees.
Fun to be had back at the lodge
Upon their return to the lodge, children can enjoy a swim in the pool or play in the designated children's area.
Many private safari lodges have a "Kids Club" or a "Cubs Den". Here, you'll find an array of games and amazing activities to keep the little ones busy during the day.
The wonderful part is that you needn't worry about running after your little ones as they explore – there are children's coordinators who will look after your younger ones whilst you have a nap, spa treatment or a swim.
At Shamwari Private Game Reserve, there is a Kids on Safari Adventure Centre. A one of its kind play area for children of all ages!
Indoor Activities
If your little ones are too young to join on game drives or if the weather is unfavourable, there are many safari-themed indoor activities to keep the little ones busy:
Puzzles
Books
Toys
Arts and crafts – painting, drawing and making your own crafts
Board games
Baking – decorate your own biscuits
Outdoor Activities
Various game lodges have both indoor and outdoor activities for little ones. Some safari destinations are experts in Kids on Safari with endless engaging and educational activities for your children. Activities at various lodges around South Africa include:
Tree climbing
Archery
Climbing walls
Ziplines
Dung spitting competitions
Stargazing
Pizza making
Adventure slides
A maze
Teaching the Little Ones About Conservation
Private game reserves also have additional activities for families, as an addition to informative game drives.
At Shamwari Private Game Reserve, children over the age of six can join visits to one of Shamwari's Born Free Sanctuaries and the Wildlife Rehabilitation Centre:
As a family, spend some quality family time at one of our Born Free Big Cat Sanctuaries.
These big cats are rescued from harrowing situations from all over the world. This is where you can learn about the importance of conservation of the species and the protection of habitat. All of this happening whilst maintaining a humane and compassionate approach to the welfare of animals.
At Shamwari, we are passionate about the conservation of nature and the animals within the reserve.
This centre helps to rehabilitate and care for sick, injured, abandoned or orphaned animals.  Shamwari has a professional veterinary team to release animals back into the wild. This is a truly informative and educational experience like no other.
Instilling a Love for Wildlife and Nature
Taking your family on safari will instil a love and passion for nature and wildlife in you and your children.
It is also a holiday where you'll make precious memories together as a family, to be cherished for a lifetime. The best South African lodges will make your family never want to leave and create a newfound love for safaris.
"We had a fabulous 3 nights at Riverdene Lodge, Shamwari😃. We were immediately welcomed by the lodge manager on our arrival and every effort was made to make our stay comfortable and relaxing by friendly and immensely attentive staff. Our children (aged 10 and 12) felt very looked after and welcomed too. The kids club area was of an extraordinary level of quality for such a small boutique hotel – zip "wires, climbing wall, maze, staff constantly on hand. No child could ever get bored there! Jess, our safari guide, was excellent and so good with our children too. Great game in Shamwari park – we saw all the big 5 except the leopards, but the other family found the, and the rangers have a great knowledge of where to look out for exciting animal groups. Sundowners at sunset overlooking the bush will never be forgotten." – Tom L