At Shamwari Private Game Reserve, we believe
in conserving a vanishing way of life.
That's why we offer family safari holidays, where children and adults alike can be educated about our conservation practices all within a luxurious setting. You can also rest assured knowing that Shamwari is a malaria-free area, making it perfectly safe for you and your family.
View Gallery
Experiences to Treasure for a Lifetime
Visits to the Born Free Foundation Big Cat Rescue Centre are focused on promoting the conservation of species and the protection of habitat whilst maintaining a humane and compassionate approach to the welfare of animals.
While kids under the age of 4 years old are not permitted on game drives, there are a host of activities for them to enjoy. We offer a children's coordinator at Riverdene, and for an additional fee, we have a childminding service available, leaving your kids in safe hands.
Children staying at Shamwari Private Game Reserve have the chance to go wild at Riverdene's Adventure Centre. In addition, there are swimming pools and many more activities to keep the active bodies happy.
---
Safari Activities for Kids
Upon arrival at Riverdene Family Lodge, parents can register their kids for the Kids on Safari Adventure Centre. Kids will have access to both indoor and outdoor activities throughout their stay. Child minding is available at an additional cost for children younger than 4 years as they are too young to join game drives.
At Riverdene Family Lodge, there are several activities to choose from, such as:
Kids on Safari Adventure Centre
Zipline
A must-visit for children seeking sky-high fun. With various heights and distances, this activity can help to develop your child's coordination skills while having a blast.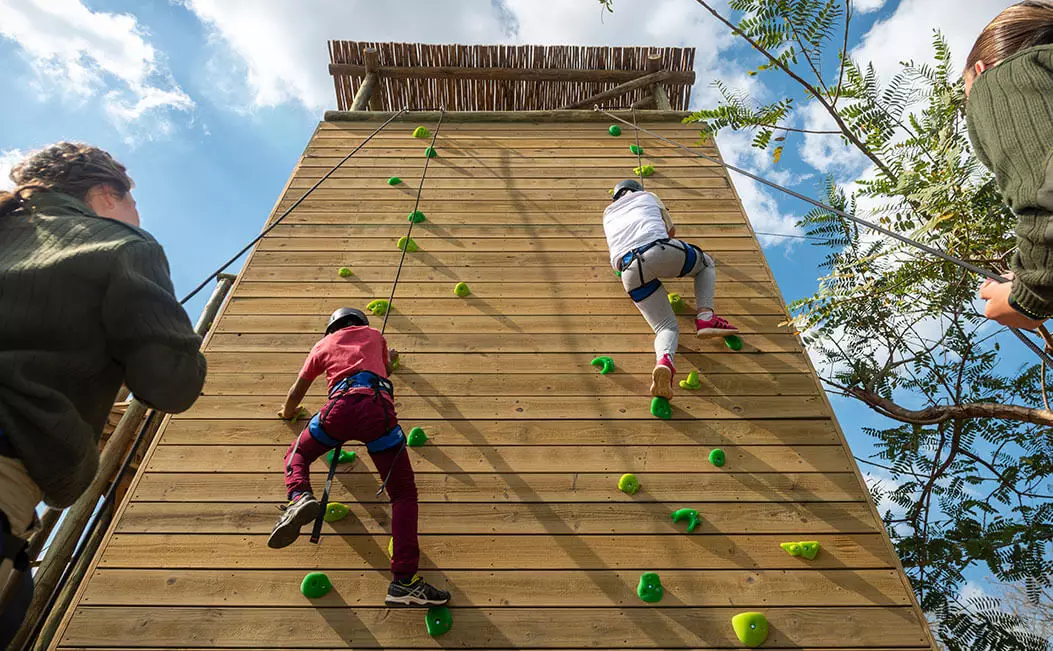 Kids on Safari Adventure Centre
Rock climbing walls:
See how strong your little warrior is when they tackle our rock climbing walls. This adrenaline-rushing exercise will keep their hands busy and their bodies moving.
Kids on Safari Adventure Centre
A network of tree houses connected by suspended walkways
Let your child feel on top of the world when they explore the game reserve from the treetops.
Kids on Safari Adventure Centre
Adventure slide
At Riverdene Family Lodge, everything is an adventure. Keep your child active as they slip, slide and splash on our adventure slide.
---
Learn While on Holiday
As a leader in conservation, we know how important it is to educate the future caretakers of the earth. That's why we've established several awareness centres that aim to shine a light on the plight of nature and the environment.
These visits are fun experiences for the whole family and include:
Born Free Big Cat Sanctuaries
In collaboration with the Born Free Foundation, the Big Cat Rescue and Education Centres aim to draw attention to the plight of wild cats, confined in impoverished, captive environments throughout the world.
Find Out More
Wildlife Rehabilitation Centre
The Shamwari rehabilitation centre is amongst the best in Southern Africa and is fully registered to provide veterinary care to young, abandoned, orphaned or injured animals. There is no entrance fee, as a visit to this centre is included in your stay. The wildlife rehabilitation centre does however appreciate any donations.
Find Out More
Important Information
As we want to ensure an enriching experience for moms and dads too, here are a few points that you should take note of:
Kids under 12 must be accompanied by a parent to all of the learning centres
All swimming activities must be supervised by a parent at all times
Children under 4 years old are not permitted on game drives, at the Born Free Rescue Centres and the Wildlife Rehabilitation Centre
Pre-booked childminding services are available at an additional cost
Gallery
Our range of kids' activities are sure to stimulate and engage your children on their safari holiday.
Book a stay at one of our lodges
Book your stay at one of our selected game lodges and enjoy a family safari
holiday under the vast African sky
Family Relaxation Inspired By Nature
Every aspect of Riverdene Family Lodge is designed for memorable family enjoyment. The lodge offers many additional activities to entertain children of all ages.
Book Now
Specials & Packages
Family Package
Minimum 3 Night Stay
Family Bush Picnic
Complimentary child minder whilst parents have private dinner
Stargazing for family
Vist to the Born Free Big Cat Rescue & Education Centre
Vist to the Wildlife Rehabilitation Centre
T&C's apply:
*subject to availability at time of booking
* Please note these specials are not combinable with each other or any other promotions in the marketplace.
Lodges you can stay at:
Book Now