Take a wildlife safari and explore wild Africa. Discover animals in their natural habitat while kicking back in uttermost luxury.
Quick Guide to a Wildlife Safari in South Africa
Wildlife Safari: An Adventure into Africa
A wilderness safari is often an impressive game viewing journey, taken via an open safari truck or on foot, where tourists can view wildlife in their natural habitat. Unlike its hunting origins, the modern-day African safari is focused on nature conservation. Now sightseers not only see beautiful wild creatures in action but they also learn about the importance of protecting species in the whole world.
Rangers, safari guides who know the landscape and its animals by heart, can take holidaymakers on wild safaris within a game reserve's boundary. Listening, and adhering to the game ranger's requests is essential to a comprehensive and safe wild African safari experience.
Wild South African Animals You'll See on a Wildlife Safari
Thanks to wildlife conservation efforts, wildlife numbers are stable, which means that sighting a wild animal on an African safari is guaranteed. Whether you're on a family safari holiday or a photography assignment, you're bound to be privy to exceptional animal sightings, especially at Shamwari.
Take a peek into life on an African wildlife safari at Shamwari in the video below!
The Big Five's reputation precedes them as their strength, size and mental prowess make some of the most dangerous animals on the planet. However, there are countless other magnificent creatures to see. Rare, shy or small beings like the Small Five are difficult to spot, but if you do, you should count yourself as lucky.
Try to Spot These Wild Safari Animals in Africa
Popular Sightings
Rare Sightings
African Elephant
Cape Buffalo
Zebra
Thomson Gazelle (Rooibok)
Baboon
Giraffe
Springbok
Gemsbok
Wildebeest
Hippo
White Rhino
Leopard
Waterbuck
African Lion
Black Rhino
Pangolin
Aardvark
Honey Badger
Serval Cat
African Wild Dog
Cheetah
See the Big Five up close on a Wildlife Safari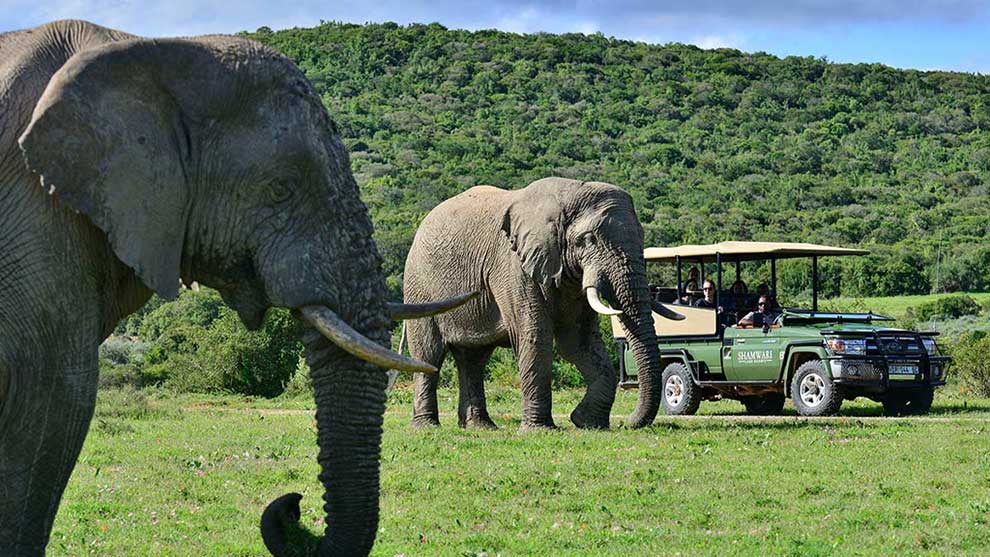 The African elephant's majestic grace up close
Wonder at the beautiful bond between rhinos and their young
Sneak a peek at one of South Africa's most elusive animals, the leopard
Feel the thunder of a lion's roar
Experience the force of the African Buffalo
Exciting Wildlife Safari Park Activities
Safaris are not limited to driving through the wild. The extent of your African wild safari holiday depends on the game reserve's service offerings and the level of adventure you crave. From walking to microlight flights, you can have it all.
Extravagant safari extras can include photography workshops, wildlife courses, helicopter flights, and balloon safaris. Some establishments even offer rafting, kayaking, quad biking or horse rides in a secured area, away from wildlife.
A typical African wild safari tour tries to keep it as natural as possible. That said, natural can feel daunting as walking safaris require participants to be relatively fit, and between the age of 16 and 65. Here are the top wild safari experiences at Shamwari.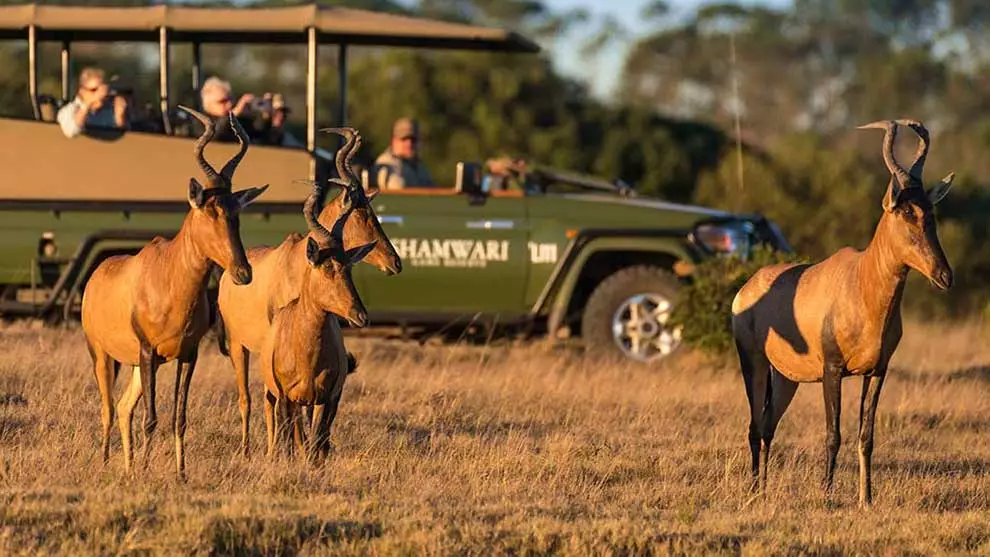 Exhilarating African Wildlife Safari Game Drives
Guests can explore the vast, almost 25,000-hectare, reserve from the safety of a comfortable 4×4 vehicle. The game viewing vehicles take guests to survey areas at sunrise or sunset when animals are at their most active.
As there is a river running through the game reserve, rare animal sightings are not uncommon. Warming coffees greet guests on their early morning drives while those on the afternoon excursions get tasty sun-downers.
These informative drives not only give guests a front seat to wildlife in action but also teaches them about animal behaviour, habitat, animal tracks and the area history.
Find out about game drives at Shamwari
*No children under the age of 4 allowed on a game drive.
Live Life on the Edge with Guided Wild Safari Bush Walks

Tread on foot and walk among South African wildlife on a Shamwari bush safari walk. Expert safari guides accompany guests on an intimate hike through the bush while sharing their intimate knowledge on fauna and flora.
For an all-encompassing experience, book your family safari holiday at the Explorer Camp. The camp offers guests an adventure-filled stay, perfect for mature family members aged between 16 and 65. The experience hones in on the core principle of the game reserve: appreciating nature at its most basic and raw. Guests will go on a supersized walking safari, an adventure-filled 2-night trail that immerses you into the wild.
Find out more about the Explorer Camp
Take Time on a Natural Birding Wildlife Safari
Shamwari's tours and safaris offer bird-lovers a chance to spot some of their 275 beautiful bird species. Thanks to the Bushman's river that runs through Shamwari, the game reserve has a wide variety of prime birding spots to admire rare birds and majestic birds of prey that flock to the area.
Find out more about birding at Shamwari
Let the Little Ones Loose on an African Wild Safari for Kids
Shamwari makes sure that each member of the family gets a wild safari experience. Children, alongside adults, can attend the multiple educational centres, which aim to inspire future wildlife conservationists. Kids can even go on their own safari!
The family-friendly lodge, Riverdene, has a Kids Club, an Adventure Centre specially designed to give active kids an unforgettable adventure.
The Adventure Centre is equipped with a zip-line, child-friendly rock climbing walls, an expansive network of tree-houses and adventure slide.
The Kids Club has pizza making, cookie decoration, and a kids' library.
Multiple outdoor activities can keep the littlest ones busy with a large playground, and fun-filled maze.
Top Wild Safaris Journeys
Small game drives ensure that each guest is well looked after. Once guests arrive at their chosen lodge, they meet their game ranger. A ranger is assigned to the guests for game drives, bush walks and most importantly, to make sure their stay is a memorable one!
For the most private and immersive experience, book your wild safari during the winter months. The chances are, you'll have a game ranger all to yourself, which means you'll be able to satiate all the questions you may have and get the most from the ranger's expertise.
You can request a private wildlife safari game drive or bush walk before or during your stay at Shamwari. Or, explore the conservation and rehabilitation centres to learn more about the wildlife of Africa.
Top 10 Wildlife Safari Tours at Shamwari, South Africa
Safari game drives
Briding
Daily bush walks
2-night trail (Explorer Camp)
Kids safari adventure
Photographic workshop and safari
Visit the Wildlife Rehabilitation Centre
Big cat sanctuary
Volunteer
Spa experience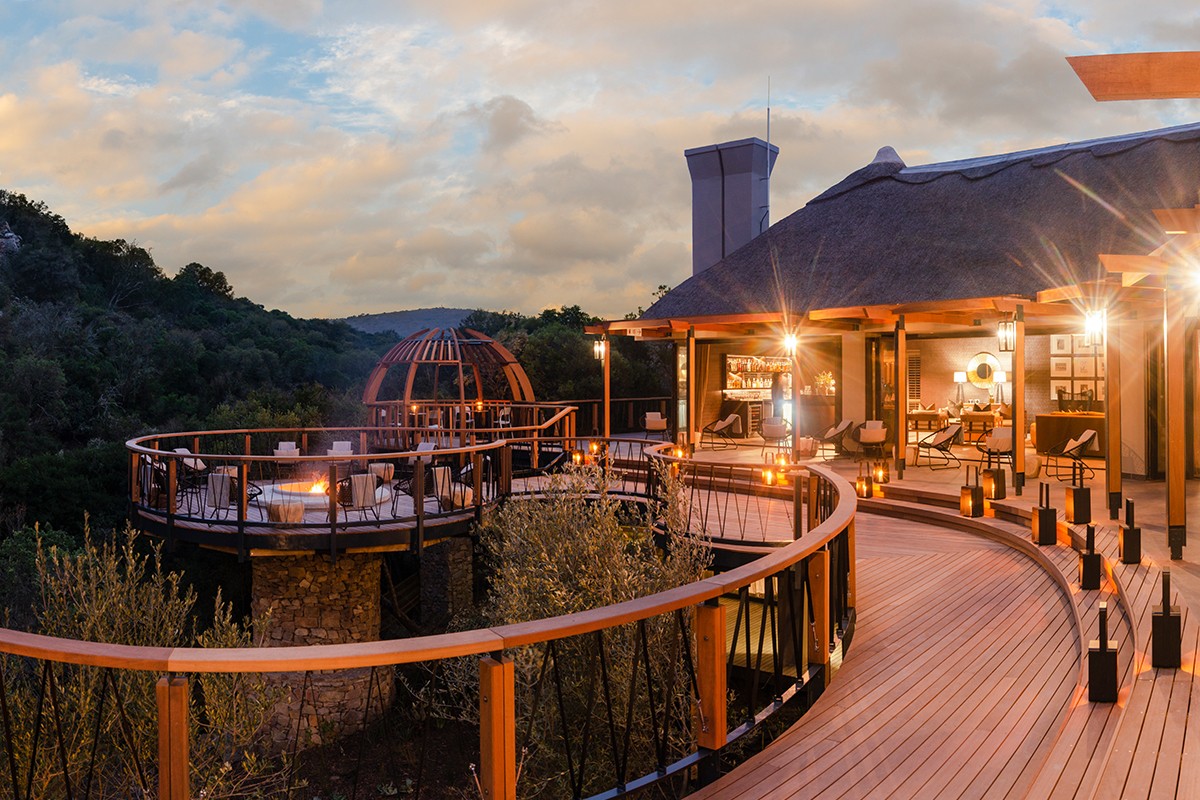 South African Accommodation in the Heart of the Bush
Rugged and naturally wild or pristine and sheltered, Shamwari accommodation caters to all tastes and stages of life. Whether it's an exquisite family lodge or adventurous tented camp, luxury lies in every detail.
Immersive Outdoor Accommodation with All the Frills
Sindile: Elevated Immaculate Safari Tents
Strategically placed atop a bushy landscape, nine comfortable tents give guests an unsullied view of the surrounding area. All luxury tented bush camps are equipped with a private mini-bar, international adapters, indoor fireplace, outdoor shower, en-suite bathroom, private deck with heated plunge pool and lounge and dining area.
Bayethe: Luxury Safari Lodge
"…no words can explain how amazing it was!"
As one of the top safari lodges in South Africa, this wilderness bush camp is submersed in lush vegetation and a feeling of serenity. This safari utopia provides the uttermost privacy and exclusive access to a Relaxation Retreat, gift boutique and outdoor deck.
Explorer Camp: Immersive Tented Camps
"We absolutely loved every moment"
Experience wildlife at its most natural and undisturbed. The Explorer Camp has Livingston style safari tents that are basic but have all the luxuries and creature comforts guests may need. Holidaymakers can expect a 2-night trail in spring to autumn, and delicious meals after an excursion. The wild safari site is rough to allow guests to immerse themselves in the South African wild.
Read more about the Explorer Camp
Deluxe Wildlife Safari Lodges Fit for Royalty
Eagles Crag: Wild Safari Luxury in the Treetops
"Stunning accommodation and if you're lucky sometimes elephants come right up to your plunge pool"
With its viewing platforms on the upper deck, Eagles Crag not only gives guests a bird's eye view of surrounding nature but also exclusive luxury at its best. The nine suites have breathtaking vistas. Each suite is fully enveloped in the surrounding bush which makes Eagles Crag a top choice for romantic getaways. Guests can immerse themselves in Shamwari by sitting on the deck, enjoy the view from the suite's lounge area or play a round of pool on the billiard table in the entertainment area.
Long Lee Manor: Comfort, Relaxation and Recreation
"A once in a lifetime experience"
Long Lee Manor is the answer for those who want the best of both worlds: homely accommodation with many creature comforts and wild nature at your doorstep. Guests can indulge their senses in the relaxation retreat, immense swimming pool, gift boutique, and beautiful garden. The manor offers teens entertainment in the teen play zone and active guests the option of hitting the weights in the fitness centre.
Apart from its luxurious accommodation, Long Lee Manor's boma overlooks the water hole that attracts a variety of animals.
Read more about Long Lee Manor
Lobengula: Exclusivity and Private Plunge Pools
"What an amazing place!"
Guests who stay at Lobengula can get an idea of what a traditional African kraal looked like. The layout of the lodge resembles that of an original kraal, but the utmost comfort of the suites contrast and complement the rustic setting. All six exclusive rooms have private plunge pools overlooking the surrounding bushveld
Family-Friendly Wild Life Safari Accommodation
Riverdene Family Safari Lodge: Entertainment for the Whole Family
"Far more than just a 5-star lodge"
Riverdene is the ultimate destination for a family safari holiday. Adults can enjoy the views of the Bushman's River, famous for its incredible animal sightings, and the bar and lounge area, while kids can run wild in the supervised kids club, adventure centre or toddlers play area. At Riverdene families can bond and relax for hours with the highest service and facilities at their disposal. Children under 8 years old stay for free.
Sarili: Expansive Viewing Platform and Creature Comforts
"Amazing… can't wait to go back"
Hovering near the edge of Bushman's River, the Sarili deck offers guest unbeatable vistas of the wild below. Luxury amenities and access to the Kids Safari Experience ensure that the whole family have a brilliant time. The welcoming pool is also a remarkable treat after a game drive or bush walk.
Pack for a Wild Safari in South Africa: Here's What You Need
Preparation is key to a successful African safari. First, you need comfortable neutral coloured clothes that will not only keep you warm during the early morning game drive but also transition into light wear when the landscape heats up. To prepare your travel bag for your wild safari in South Africa, pack these things in your holiday bag:
Walking shoes that can conquer rough terrain

Neutral-coloured (like beige and khaki) clothing

Sun hat

Sunglasses

Sunscreen

Camera with extra memory cards and batteries.

Insect repellent, especially in high-risk areas

Your medication

Multi-purpose ointment for bruises and insect bites
If your African wild safari destination includes a pool, pack your bathing suit too! You can also stock up on essentials at the game lodge's curio shop.
African Wildlife Safari Prices: What to Expect
All-inclusive African wild safari vacations ensure that you, the guest, have the ultimate wilderness experience that is at once exciting and luxurious. With our customised wild safari packages you can have it all and save between 10-20% on your total accommodation and wildlife safaris prices.
All Shamwari stays include the following:
Luxury accommodation
All-inclusive breakfast, lunch and dinner (excludes beverages)
Game drives twice a day (includes local beverages)
Guided bush walks
Coffee, tea and still/sparkling water
Visits to wildlife educational centres within Shamwari
Daily housekeeping
Turndown service after dinner
Explore Shamwari tailored holiday packages
Read our Wildlife Safaris Reviews
Shamwari offers exceptional wildlife safaris. Whether you want to be fully immersed in wild Africa or view wild nature from a distance, you can find it at Shamwari. According to one happy guest, "the [safari] drives surpassed our expectations and seeing the animals so close was wonderful", and another stated that "it was the best experience we have ever had on holiday". Find out what our past guests have to say on TripAdvisor and Google reviews.
What are you waiting for? Your dream African wild safari is a click away!
Book your wild safari experience at Shamwari today and discover what it's like on the wilder side of life!