Family Safari Holidays in South Africa may feel daunting, but don't fret! We've put together a guide to help you plan your family safari holidays with ease.
Family Safari Holidays: How To Plan A Fabulous Trip
The key to planning fun family safari holidays is selecting the game reserve that caters to all your needs. You might not know when the best wildlife viewing times are, however not to worry. We keep your kids busy while you're on a safari or we simply include your little ones into the African adventure. Whatever your need, our experienced holiday coordinators will have you sorted in no time.
Also, find helpful insights into family safari tours and moreover discover one of the best malaria-free African safari destinations. Shamwari Private Game Reserve is a mere 75km from the coastal town, Port Elizabeth in the Eastern Cape. This part of the country is free from malaria-carrying mosquitoes. Therefore, it is perfectly safe for bringing your children with you on safari at Shamwari.
What to Expect from Family Safari Holidays in the Exhilarating Eastern Cape
Plan the itinerary of your trip and as a result, get a taste of all that South Africa has to offer. The naturally and culturally rich region of the Eastern Cape has more to offer than just safari trips. The lush evergreen Tsitsikamma forest, the jagged mountains of the Baviaanskloof, the Drakensberg Mountains, the Great Karoo's desert and pristine beaches, to name a few. All of this come together to form an impressive range of diverse treats for the senses.
LEARN MORE ABOUT THE EASTER CAPE TOURISM
Your family's safari experiences include game drives and bush walks. Further, on a luxury adventure, you and your loved ones get tasty meals, superior service and super accommodation. We offer exciting game drives that start early morning or late in the afternoon. Specifically to ensure you get a chance to see some of Africa's most amazing animals.
Family Safari Packages in South Africa
When it comes to choosing between Africa family vacations packages, there are a few key factors that can make the experience even more enjoyable. In fact, luxury family holiday destinations like Shamwari take care of everything. From early morning coffee, game drives, child entertainment and also a turn-down service. Its all done for you.
EXPLORE LUXURY SAFARI PACKAGES
What is included in the Best Family Safari Packages?
We get it. Spending quality time with your family is a priority, you also want to relax and unwind. Leaving your children in our safe hands enables you to enjoy all the luxuries of being on holiday. Specially designed for families, Shamwari's family safari lodges are among the best family holiday destinations in South Africa. Let's get to what is included in luxury family safari holidays.
Caring Childminding Services
Your little ones are also taken care of on our top family African safari vacation packages. With childminding services, you are on a game drive with a calm and clear mind. Hence, knowing the kids are enjoying themselves.
Easy Safari Entertainment for kids
You might like looking at wild animals, but an energetic pre-schooler might find it uninteresting. That's why the top destinations accommodate all guests – young, old and in-between.
At Shamwari, three centres for kids keep energetic children busy. This encourages growing imaginations to bloom and give them plenty of sunshine. Unlimited adventure time at the Kids on Safari Adventure Centre, outdoor playtime and arts and crafts at the Kids Club are all supervised by caring Shamwari assistants.
Yummy Breakfast, Lunch and Dinner
Family safari holidays are even better when meal times are taken care of.  Here you can expect the best South African cuisine freshly prepared for you. Professional chefs whip up tasty meals in the morning, afternoon and night. Guests staying at Shamwari during winter get to dig into an indulgent brunch after their daily game drives.
Freebies for Young Children
Taking care of children is a great feat. Family holidays should feel like a reward and not a chore. Therefore, some luxury family vacation packages offer free accommodation to young children. Kids under the age of eight stay for free at Shamwari family safari lodges during the winter months.
Cosy and Deluxe Accommodation
Posh bedding, comfy loungers and state of the art creature comforts ensure that guests have all the luxuries they need and more. You can count on clean, beautiful spaces. Leaving you with satisfied senses as a result.
Reliable WiFi for When You Need It
An African safari is an excellent opportunity to disconnect from the hustle of everyday life. But, if you need to connect to the outer world, you can. Top family vacation spots in South Africa will have quick and reliable internet ready for when you need it.
Luxury Family Safari Experiences
When you choose a destination, your safari activities are included! No more blind bookings or schedule confusion. In addition to this, your accommodation will ensure that every part of your trip goes smoothly and fits your intrinsic schedule.
At Shamwari, a game ranger will assist you and arrange your African family tours accordingly. Shamwari includes various luxury family safari activities in their family safari packages like game drives and bush walks.
Conservation Education for the Whole Family
Conserving wildlife is essential to a healthy eco-system. African safari experiences have gone from exploring the landscape and hunting to protecting and appreciating wild animals in their natural habitat. Teaching growing minds about animal conservation is time well spent and also a way to encourage conservation in future generations.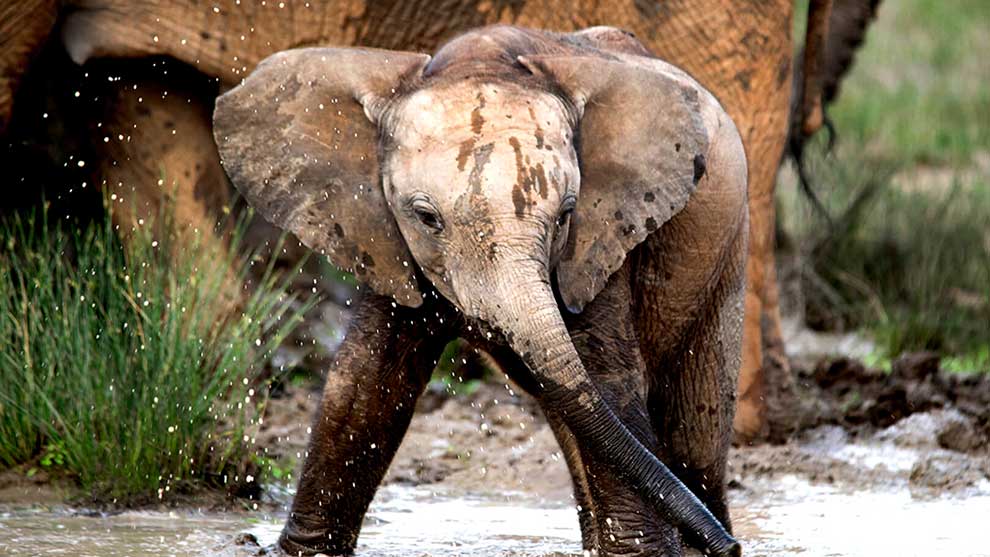 Going on family safari holidays could inspire your children to be future conservationists
Simply introducing your children to the magic of a safari could inspire their love for wildlife to come to life and perhaps even encourage them to pursue a career in conservation when they are older.
Shamwari has two wonderfully unique facilities. In aid, this teaches younger generations about the importance of conservation.
The first is our Wildlife Rehabilitation Centre. This registered facility provides expert veterinary care for young, abandoned, orphaned or injured animals. After its extensive renovation, this facility is now among the best in Southern Africa. The design followed a hands-off approach to minimise human involvement with animals in this beautiful setting. Limited contact is pivotal to the successful release of the animals back into the wild.
The second conservation initiative is our two Born Free Big Cat Sanctuaries and education centres. Shamwari, in collaboration with the Born Free Foundation, aims to draw attention to the plight of wild cats, confined in impoverished, captive environments throughout the world. These centres house big cats from around the world, providing a better life. Children get to hear the stories and see these big cats in a happier environment from which they came.
Family Friendly Safari Lodges in South Africa
Shamwari has seven luxury lodges and one explorer camp. Two of these luxury lodges are family orientated, also offering family-friendly safaris. Luxury child-friendly game lodges in South Africa are scarce. However, the ones that we do have are exquisite and operate on an international 5-star level.
Riverdene: The African Safari Lodge that has it All
Riverdene was revamped in 2018. As a result, the guest experience is enhanced. Riverdene also creates a Kids on Safari wonderland for families travelling with children. This lodge has nine inter-leading rooms, making them ideal for families.
The luxurious lodge is an elegant homestead, creating a home away from home. It is the ideal place for families to bond as gentle giants roam in the distance. The lodge has a Kids Adventure Centre which comprises of an indoor and outdoor facility for children. Children's coordinators look after your little ones so that you can relax by the pool.
 Sarili: Unrivalled Views and Privacy
Shamwari's second family-friendly safari accommodation offering is Sarili. This intimate lodge, with five rooms, is designed for families looking for privacy. Children can still go wild at Riverdene's Kids Adventure Centre. Enjoying all the benefits of the one of a kind centre while staying at Sarili.
Sarili Lodge boasts views of the Bushman's River as well as the grassy Shamwari plains where wild animals roam. Modern-day comfort inspired by nature makes this family safari lodge the perfect escape for all families. Spend quality time together at a safe and adventure-filled destination in South Africa has never been so easy.
Snap-worthy Family Safari Trips
Our rangers are experts in the field, providing an enlightening experience for you and your kids on an African safari. The guides help you spot wildlife while inspiring, engaging and teaching kids about the natural wonders of the bush. There are endless opportunities for children to learn more about wildlife. From the Big Five to insects, rare plants and even stars!
Game drives are filled with amazing wildlife encounters. Watching a springbok prancing, marvelling at a herd of elephants peacefully roaming in the distance and feeling the thunder from a lion's roar is all part of the family safari tours at Shamwari.
Something wonderful happens when your kids are on their first safari. It's magical when they see wild animals up close, after only seeing them in books. You'll see your child's face light up and fill with awe.
Choose a Safari Package That Suits Your Family
Make Memories with a Luxury Family Safari
South Africa is the only country in Africa that can offer a malaria-free safari experience in certain parts of the country. In the Eastern Cape of South Africa, there is no risk. You can bring your kids along for an African safari family vacation. Game Reserves in South Africa have incredible wildlife viewing opportunities. All-inclusive packages ensure that your family safari holiday exceeds your wildest dreams.
Best Malaria Free Family Safari Destinations
South Africa is one of the safest family safari destinations when it comes to malaria. This country has many game reserves in malaria-free areas that are perfect for family safari holidays
Which Family Safari Destinations in South Africa are Malaria-Free?
The larger part of South Africa is malaria-free. Western Cape, Eastern Cape, Free State, North West Province, Northern Cape, the Free State and Gauteng are all safe from malaria-carrying mosquitos. However, it's important to note that the northern region of the country, specifically areas that border with Zimbabwe and Mozambique, have had malaria outbreaks.
Which Countries Declared Malaria Free by WHO?
WHO has declared and certified five countries as malaria-free in Africa. These countries are:
Where is the Best Malaria Free African Safari?
The best malaria-free African safaris are in the Eastern Cape and the Western Cape. These two provinces offer unique wildlife experiences. Some game reserves are often located within an hour's drive from the beach. This means you can have the best of both worlds, hassle-free!
Why a Family Safari Vacation spells FUN for the WHOLE family
Shamwari Private Game Reserve offers the best luxury family safari holiday in South Africa. Here's why: Parents get a chance to relax and unwind while their children are looked after at the lodge. Should you want to treat yourself to a relaxing spa experience or steal away to a private game drive, we got you covered.
When it comes to dining, families are spoilt for choice. Yummy meals can be served for the whole family, or kids can have their own meals while parents enjoy a romantic dinner for two. The flexibility and diversity are what makes African safari family vacation packages so remarkable.
When is the Best Time to take Family Safari Trips to South Africa?
Make your trip even more rewarding by booking your family safari holidays at the best time. At Shamwari, the whole year is prime time for wildlife viewing thanks to the lush evergreen vegetation of the Eastern Cape. However, the winter season has two unique perks: up to two children under the age of eight can stay for free, and because May to October tends to be quieter, you'll possibly have a game ranger all to yourself.
Let the Little One's Run Wild on a Kids Safari
Little ones can have fun too! Children younger than four are not permitted on game drives, but luckily, there are multiple activities they can enjoy. Climbing towers, rushing on zip lines, making pizza and cookies, enjoying educational books are a few of the kid-friendly safari activities.
The safari for kids is a fun-filled educational experience where children discover how to track animals by their dung, identifying dusty wild tracks and much more. Experience the magic of making memories with your kids in wild Africa.
LEARN MORE about Shamwari's Kid Safari Programme
What are you waiting for? Your family safari holiday awaits!
These are all the wonderful reasons why Shamwari Private Game Reserve should be one of your first choices. Let us make your family safari trip an unforgettable one!