There's an air of romance and adventure about the African bush, which makes it the perfect setting for your wedding. Venture off the beaten track and opt for a bush wedding, courtesy of Shamwari.
Shamwari: An Idyllic Bush Wedding Venue in the Eastern Cape
Shamwari Private Game Reserve is a luxury safari destination, located in South Africa's scenic Eastern Cape Province. This culturally and ecologically rich province is the perfect destination for your unique luxury wedding.
Africa has that unmistakable air of romance and adventure about it. In other words, a bush wedding will resonate deeply with you as you stand on the brink of marriage. Enjoy a bush wedding with all your nearest and dearest in attendance at Shamwari.
Shamwari is conveniently located only an hour's drive away from the friendly city of Port Elizabeth. This friendly city is on the beautiful coast of South Africa's Eastern Cape Province. Daily airline connections are available from all of the country's major cities to Port Elizabeth. As a result, both local and international guests are able to access the venue.
Seven splendid five-star lodgings can accommodate up to 70 guests. Our lodges are ideal for those looking to have a luxurious, yet intimate wedding. Deciding to have your safari wedding at Shamwari gives you access to a variety of stunning, one of a kind venues. Ensuring both you and your guests have a truly memorable stay.
Memorable Stay:
You are spoilt for choice when it comes to choosing the setting of your Shamwari wedding. We have various impressive options to choose from, including:
Long Lee Manor Indoor Banqueting Venue (new, glamorous and sophisticated)
Long Lee Manor Boma
Old Elephant Boma (located in the midst of the bushveld)
Riverdene Boma
Depending on your wedding party's size, any of our lodgings can be completely privatized for the occasion, ensuring your reception remains an intimate and special affair.
Shamwari's seven luxury lodgings are able to accommodate:
Bayethe: 24 guests in 12 superior tents
Eagles Crag: 18 guests in 9 junior suites
Lobengula: 12 guests in 6 junior suites
Long Lee Manor: 40 guests (2 children and 38 adults) divided between 17 luxury rooms and suites and a single-family suite
Riverdene: 27 guests (9 children and 18 adults) divided between 9 luxury rooms
Sarili: 10 guests in 5 luxury rooms
Sindile: 18 guests in 9 premier tents
Why Choose a Safari Bush Wedding?
Nothing can compare to a safari wedding – especially not a safari wedding at Shamwari. Here you'll experience luxury inspired by nature to the fullest. Saying your wedding vows surrounded by the region's unique fauna and flora will make one of the most important moments of your life seem even more magical.
A wedding in the African bush will give your wedding party the chance to get up close and personal with the abundant wildlife of the Eastern Cape during your stay. Here, guests are given the opportunity to coexist in complete harmony with nature.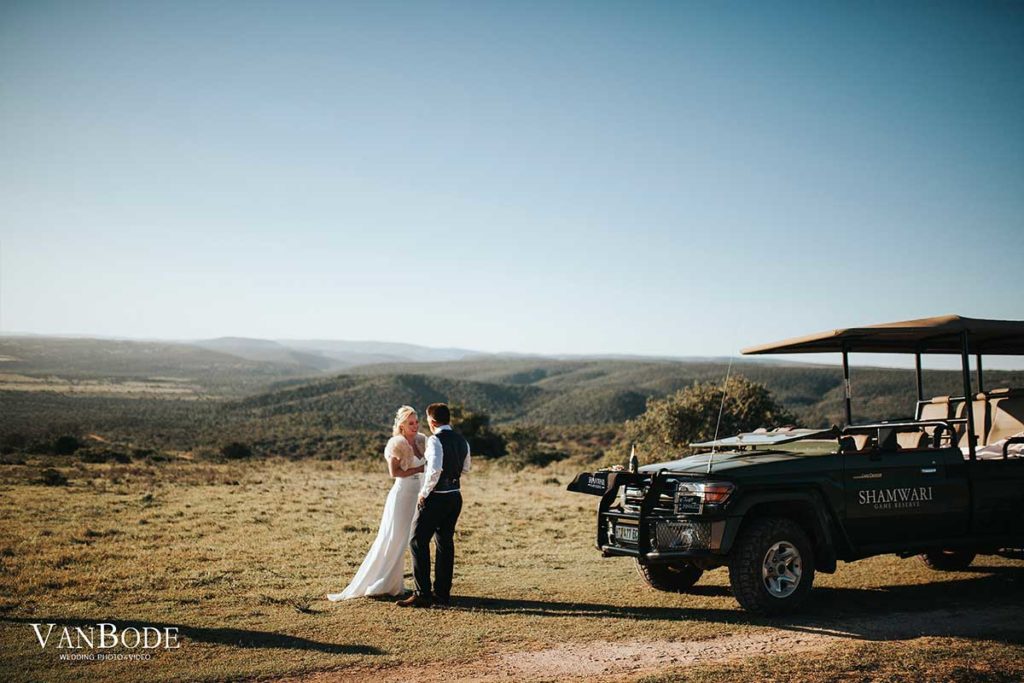 Bush weddings also allow you and your guests staying at the safari accommodation to take part in various new and exciting experiences. Shamwari offers our esteemed guests the opportunity to take part in several activities.
Activities:
Guests can expect to not only enjoy top-class indulgence during their stay but learn a lot as well – thanks to the various activities on offer. Learn more about animal habitats, their dung and tracks, the area and its history, as well as the various wildlife that call Shamwari home. Our guests with a particular love of learning are sure to enjoy visiting the Shamwari Wildlife Rehabilitation Centre or one of our Born Free Big Cat Sanctuaries.
In addition, Choosing Shamwari as your bush wedding venue also means that you are supporting us in our conservation efforts. At Shamwari, the responsible management and long-term ecological sustainability of our natural environment are a top priority. We believe in conserving our environment so that future generations may also experience its majesty.
There's a luxury Shamwari accommodation option available to suit every wedding party's needs. Choose between one of our seven splendid lodgings – we guarantee a memorable stay, no matter which lodging(s) you choose for your wedding party. Each of our accommodation options has t-+heir own unique air about them, inspired by the animals and scenery surrounding them.
If you're looking to have an intimate, private wedding, you'll be happy to hear that all of our different accommodation offerings are located far away from each other. For instance, you won't even know about any guests that aren't part of your wedding party.
Find the Shamwari accommodation option that's right for you and your wedding party:
Everything Included in Shamwari's Bush Wedding Package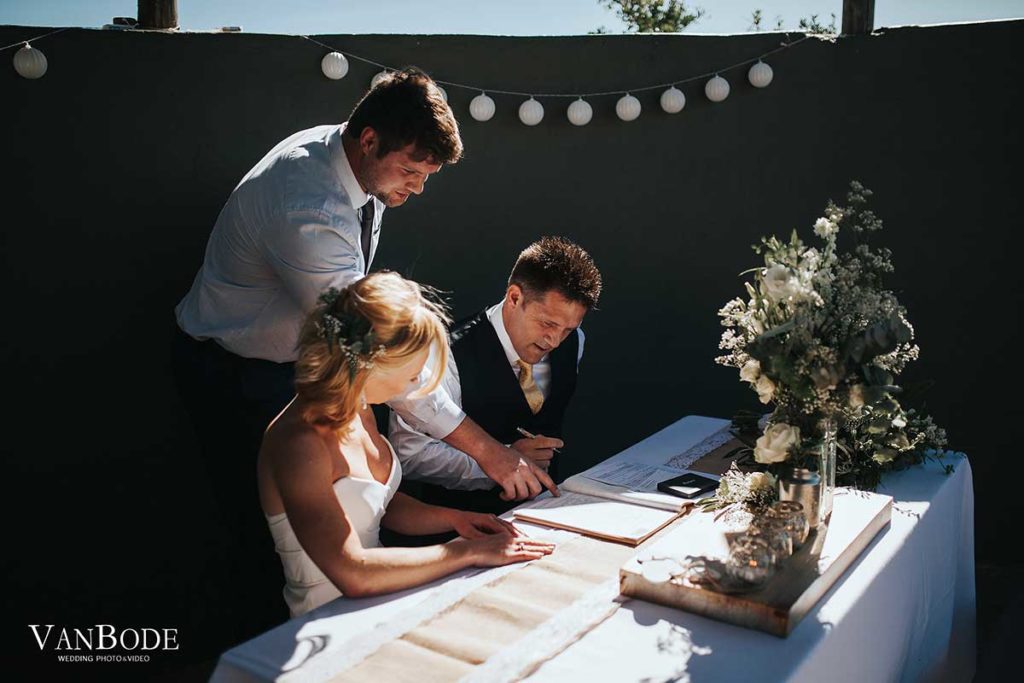 Having one of the best and biggest days of your life at Shamwari will get you numerous services, sure to make your special day just that – and stress-free to boot:
Exclusive access to a hairdresser and make-up artist for the bride and bridesmaid
A highly skilled photographer to capture your magical occasion
A pair of buttonhole flowers for both the groom and his best man
A bridal bouquet for both the bride and a bridesmaid
Flower arrangement for the ceremony
A complimentary spa treatment for the bridal couple, in their suite
Indulgent turndown service for the happy couple
Private use of one of Shamwari's game vehicles for the happy couple on their wedding day, as well as the day afterwards
A private breakfast served to the bridal couple in their suite the day after their wedding
A complimentary toast of Methode Cap Classique to toast the happy couple with
A delectable two-tier wedding cake made by our very own pastry chefs
Some game drive sundowners and snacks for your wedding party
A meeting with our chef where you'll be able to plan out a custom three-course menu for the wedding reception (including canapés and cocktails to be served at the ceremony venue)
An elegant and tasteful wedding venue setup, which includes the use of a Bedouin tent, as well as tablecloths and overlays (white and cream)
Coverage of the unabridged wedding certificate application and its collection
Use of our preferred Christian minister for the officiating of your ceremony, as well as the exchanging of your vows (alternative religious ceremonies will require that you organise your own officiant, on your own account)
Access to an attentive wedding coordinator, who will be happy to assist you in sorting out all the details of your Shamwari bush wedding
Access to a secluded and private venue in the bush for your ceremony and the exchanging of your vows
For more information regarding Shamwari's Bush Wedding Package, click here, or download our Bush Wedding Package PDF here.
Making the bush wedding of your dreams a reality is only a click away. Get in touch – we eagerly await communicating with you and making your perfect day a reality.