Why the Best Luxury Safari Holiday Must Make Your Bucket List
Our Luxury Safari Holiday have it all: authentic and exhilarating encounters with wild nature and exquisite accommodation. Not only will you experience animal behavior up close, but you will also have all the creature comforts and the best South Africa has to offer. Make the most of your break from reality and take a walk on the wild side of life with our Luxury Safari Holiday.
The days of makeshift tents are long gone. Today, luxury safaris are about more than trekking in the dust. High-end establishments cater to guests' every need, from entertainment to relaxation to delicious meals. The best safari lodges in Africa are all-inclusive, which mean that after marvelling at a lion's majestic mane, you'll receive coffee, breakfast, dinner or an exhilarating bush walk.
5 Things You Need to Know Before Booking your Luxury Safari Holiday
1# When to Go on a Safari Holiday
Late autumn, winter and early spring are the prime wildlife and bird viewing seasons. The winter is ideal for adventurers who want a bit of privacy (and possibly, a game ranger all to themselves) as these months, June to August, are quieter than the summer season. It's worth noting that temperate coastal regions like the Western Cape and Eastern Cape are pleasant throughout the year.
2# Where is the Best Safari Holiday
If you want to avoid odd side effects from antimalaria drugs or have a young family, it's best to book luxury safari holidays at a malaria-free area. Luckily, top establishments are within reach and are free from malaria. Central, southern and eastern South Africa don't have malaria-carrying mosquitos. In fact, the Eastern Cape is one of the premium regions that offer a wide range of attractions without the risk.
3# What to Pack for an African Safari
First off, you can leave your whites, high heels and perfume at home. You may know that neutral tones are a must, but what about the rest?  Packing is easy when you know what needs to go into your suitcase.
Sand and earthy-coloured clothing for game drives and bush walks
Sun hat, sunglasses, and sunscreen to protect you from the sun
Comfy closed walking shoes for rough terrain
Your medication, if you're on prescription pills
Multi-purpose ointment for scratches
Camera with extra memory cards and batteries
Binoculars
Bathing suit
Warm clothing in winter
Passport (internationals) or ID (locals)
Cash (in South African Rand) especially in remote areas
READ MORE ABOUT PACKING FOR A SAFARI
4# How to Travel to a Wild Safari Holiday Game Reserve
The top luxury safari lodges in South Africa can arrange private road transfers and charter flights. Alternatively, guests will need to make use of their own transport, like their car, a rented vehicle or an Uber.
5# Which Language to Speak on a Safari Holiday
South Africa has 11 national languages. But, luckily, English is the main language of communication. However, in the more remote regions, English may not be the most used language. If you're heading to one of the best safari lodges in South Africa, you can rest assured, knowing that all staff members will be fluent in English.
Watch this Tribute to One of the Leopards at Shamwari Luxury African Safari
Top 10 Luxury Safari Holiday destinations in Africa:
Africa is renowned for its abundant wildlife and extraordinary landscape. Some destinations offer more, and South Africa is top when it comes to diversity, amenities, ease of communication and the likelihood of seeing animals big and small. Here are the top destinations in Africa:
1. South Africa: Variety and Excitement
Rated as one of the most beautiful countries in the world, South Africa has the best of two worlds. Here you can experience untamed wilderness and coveted city adventures in one day. Most of the country is malaria-free, with the exception of the most northern region that borders Zimbabwe and Mozambique.
Not only can holidaymakers have a carefree breakaway, but they can also meet wildlife in person. The country has a large variety of indigenous animals, with the most popular being the Big Five.
Luxury safari holidays in South Africa are at the same time thrilling, culturally rich and educational.
2. Botswana: Trekking in Lush Bush
A few of the best luxury African safari tours are in Botswana. Their game reserves are enormous, which give guests an authentic journey of epic proportions. Because of the park's size, spotting animals might be challenging at times.
3. Kenya: Vast Open Plains
Kenya's vast plains are known for its epic Wildebeest migration and unique cultural heritage. Holidaymakers looking for a wild experience and long trekking in an area untouched by humans will find their adventure in Kenya.
4. Tanzania: Sea and Land Safaris
Each African safari has a unique offering, and Tanzania's is chimpanzee trekking. All safari-goers will be kept on their toes in this lush country: from seaside safaris in Zanzibar's coral reef to a classic savannah expedition are on offer.
Top Luxury Safari Lodges in South Africa
The finest South African resorts and lodges are often tucked away within a few hours' drive from popular cities. These lodges offer the best game viewing opportunities within their exclusive borders as expert game rangers tend to each guest. On bush walks, the expert rangers track animals to make sure that you get to see and experience the extraordinary.
Impeccable service and their exclusive location make this a once-in-a-lifetime experience. Private game reserves include gourmet meals, five-star accommodation and wildlife adventures in all their packages. But did you know you could get more?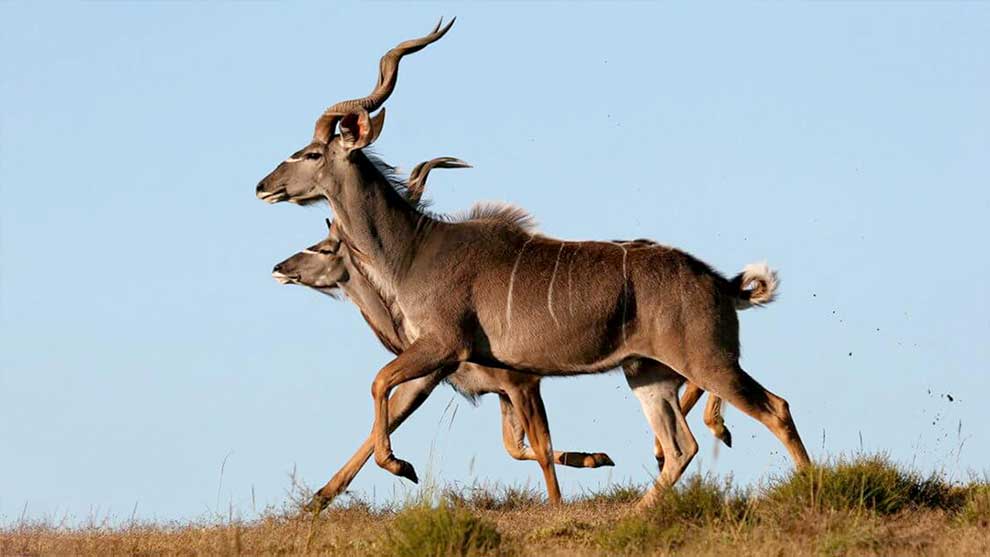 Why the Eastern Cape is a Leading Luxury Safari Holiday Destination
In the Eastern Cape, you can see a leopard stalk its prey, indulge in a relaxing spa treatment, catch a wave, join a local get-together, and hit the party scene all in one trip. In this part of South Africa, the landscape is green and lush. Mountainous areas, winding rivers and picturesque beaches are dotted all over the region. Whether you want rest for your soul or a boundless adventure, you can have it all in the Eastern Cape.
Watch a Big Five Encounter during a Luxury Safari Holiday
Luxury Safari Tented Camps in Wild Africa
Rugged has never looked so good. Shamwari's tented safari camps are among the best in South Africa. Each pristine and private tent sits atop a beautifully raw location. Exclusive glamping shelters tucked into the landscape ensure that guests can experience Africa at its most natural.
While you're staying in the finest safari tents, you'll witness wildlife encounters free from human interference. At Shamwari, guests can choose how raw their experience are. From the shelter of a tented lodge to the adventure of an explorer camp, each taste can be satisfied.
Explorer Camp: Luxurious Safari Holiday on Foot
Take bush walks to the next level by staying at the Explorer Camp. Here rangers and caring staff accompany guests on a two to three-night adventure as they travel on foot through untamed bush daily before returning to the luxurious safari camp.
The Livingston style tents are simplistic but fully equipped with modern amenities and soft bedding. A magical experience awaits anyone who is an explorer at heart. Besides, wild animals roam near the camp's perimeters and may brush past your luxury safari tent. Safety precautions ensure that guests are safe at all times. This exclusive opportunity is only available during the warmer months, October to April.
Guests rave about the Explorer Camp, read their reviews on TripAdvisor and find out more below.
"Explorer Camp did not disappoint! Livingston style luxury camping with gourmet meals and fantastic rangers. There is also an amazing deck with excellent views, which is large enough to do a workout on. We are fans and will certainly be back to Shamwari."
READ MORE ABOUT THE EXPLORER CAMP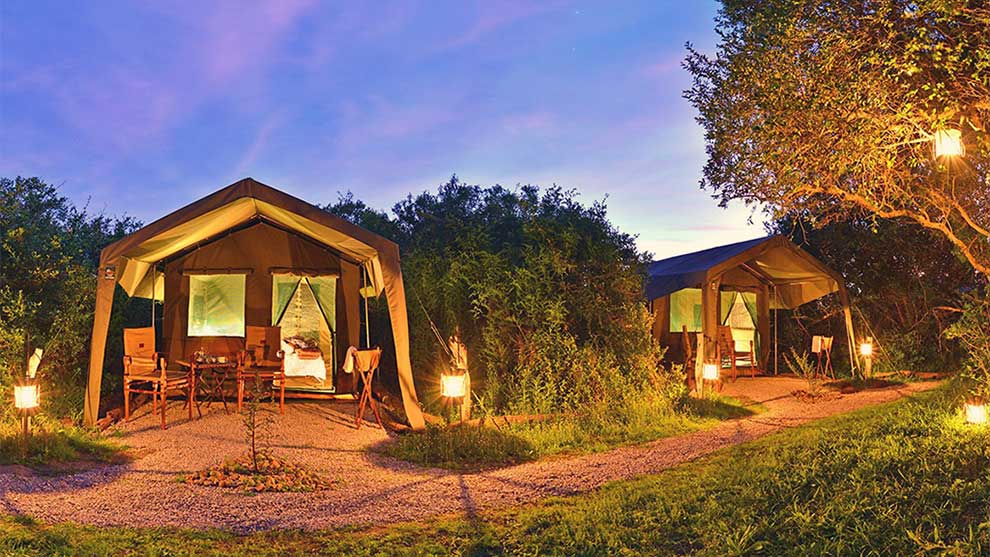 Bayethe: Best Luxury Safari Breakaway
With a private plunge pool, unparalleled vistas and modern finery, Bayethe is an exceptional African safari destination. The tented lodge hovers above the riverbed, a popular animal gathering place, and has prime wildlife viewing decks.
Not only can guests enjoy their daily remarkable game drives but also tranquil relaxation at the lodge. The viewing deck is ideal for sundowners, and the spa packages will make anyone feel refreshed.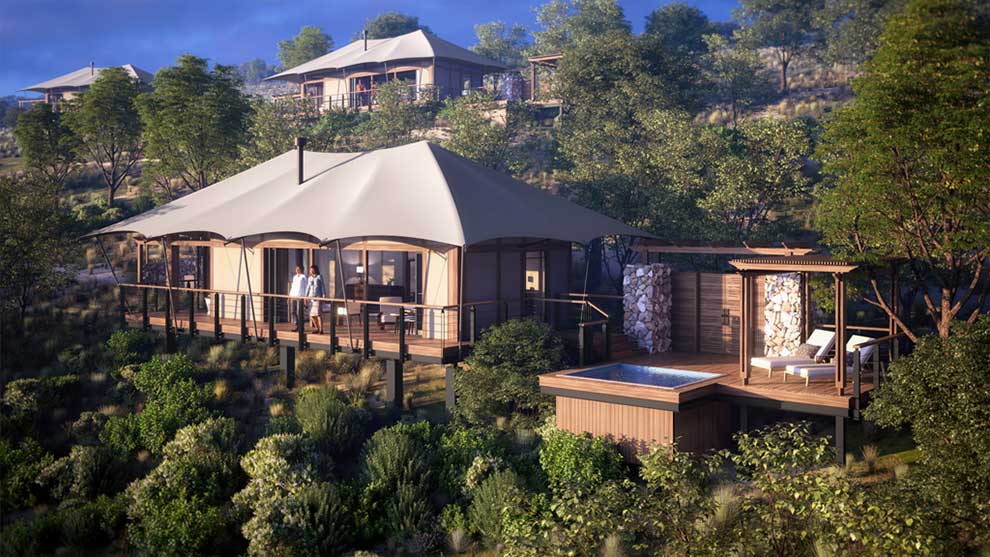 Sindile: African Safari Sanctuary
Comfortable and luxuriously secluded tents in the Sindile camp are elevated to give guests the best possible opportunity to witness a wildlife encounter. Each of the nine tents has all the creature comforts expected of a five-star establishment. But, Sindile has something more: unsullied nature a hair's breadth away.
Luxury African Safari Vacations: Take the Family On a Vacation Of a Lifetime!
We've got terrific news. Some of the finest destinations are open for the whole family! With specialised accommodation and entertainment centres,family safari lodges like Shamwari make sure that everyone has an exceptional time.
At Riverdene and Sarili, two family-friendly lodges at Shamwari, children can run wild to their hearts' content at the Kids on Safari Adventure Centre.
Get more Fun with Family Safari Packages
Specialised family safari packages are tailored to see that each member has an absolute blast. Young bodies can burn their energy in play areas designed to entertain their growing minds while providing mental stimulation. At the other end, parents and grandparents can indulge all of their senses with game drives, bush walks and sun-downers.
All-inclusive family safaris not only look after individual needs but also provide an exceptional setting for family bonding. Kids under four years old can't join game drives, but those old enough are sure to have fun on outings thanks to our rangers. These expert guides know how to draw in kids to appreciate the bush. There are many reasons why you should take your whole family on an African safari. Whichever the reason, you can be sure of making many beautiful memories on your tip.
What our Guests Say about their Luxury Safari Holiday at Shamwari
"Our three-night stay was spectacular, and we had a wonderful time. […] What was particularly special was the care and thought [our ranger] took in acting as a guide to our whole family – including four and six year old children. She was fun, patient, was able to draw the kids into appreciation of the bush." 
"Lots of new memories made in this outstanding game reserve. The knowledge and experience of our Ranger Mino was fascinating! He made the game drive fun, serious and exciting. The lodge and its staff were super. Felt totally spoilt from arriving to leaving! In fact, we didn't want to leave. Will be back in December with my family to make even more memories!"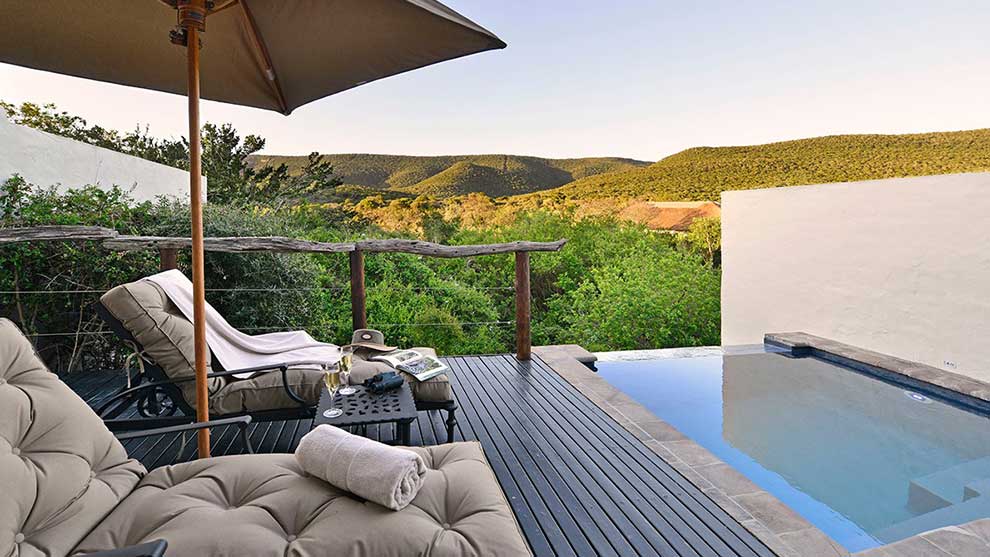 Romance on a Wild African Luxury Safari Honeymoon Holiday
There is no better way to spend your first week together in complete privacy. Shamwari and its staff understand and cater to every need newlyweds may have. As an additional treat, Shamwari has tailored a getaway package at a 10% discount! This romantic breakaway includes a turn-down service with chocolates, private dinner, a couple's massage and a guided bush walk.
After your luxury honeymoon safari, you can head to the wild coast for a beautiful beach day. If you need help with your trip itinerary, you can contact the friendly staff at Shamwari to guide you to the relevant tourism department.
Shamwari has three supremely romantic lodges, Bayethe, Eagles Crag and Lobengula. Read on to see what other honeymooners had to say about their luxury safari honeymoon packages.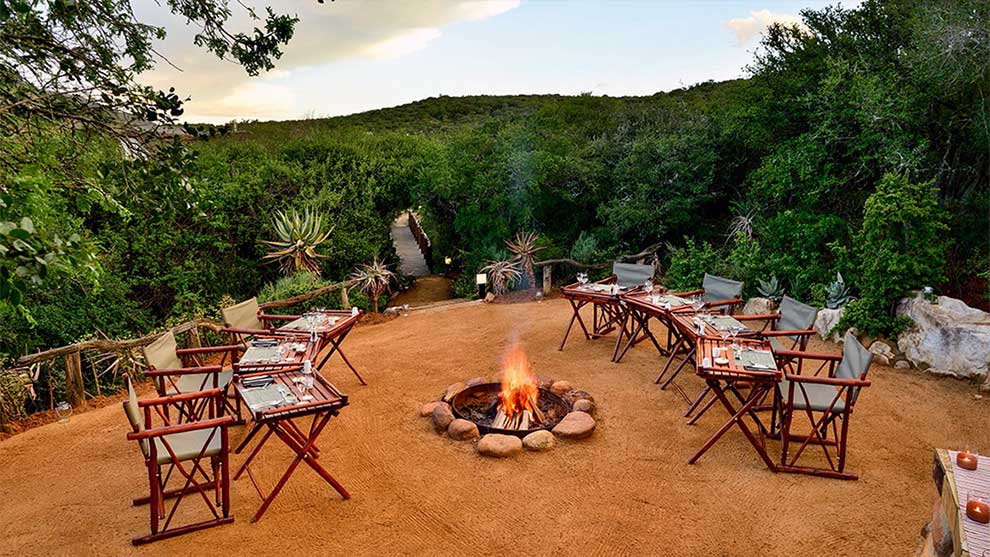 Lobengula: Luxury Safari with a Cultural Twist
"Cannot recommend Shamwari highly enough. A great destination for animal lovers and a perfect place for a honeymoon."
Eagles Crag: Exclusivity with a Bird's-Eye View
"Stunning accommodation and if you're lucky sometimes the elephants come right up to your plunge pool. […] The staff too were so accommodating going above and beyond. Thanks for making our honeymoon so special."
Bayethe: Private Sanctuary
"Shamwari is an incredible place, with such powerful images and unforgettable moments, I can still close my eyes and imagine I'm there."
Tailor-made Luxury African Safari Packages
The best experience is one that suits your needs specifically. That's why Shamwari has flexible vacation packages to make the perfect trip. Honeymooners and couples can take advantage of a romantic package, larger groups like a busy family can have a lodge to themselves, and photographers can capture the moment on a photographic safari.
Additional packages include remarkable specials, like discounted African and winter safaris.
How to Choose the Best Luxury African Safari Tours
Finding a private game reserve that is the one for you might be daunting. But choosing needn't be difficult. In fact, previous guests make your choice easy, thanks to their candid reviews. People tend to be honest on review platforms like TripAdvisor and Google Reviews.
Have a look at what guests had to say about Shamwari on TripAdvisor and Google Reviews.
See the Big Five and more with Luxury African Safari Experiences
If you're lucky, you might see them all, the Big Five, the Small Five and every creature in-between. The best luxury African safari tours are often on the back of a game viewing vehicle. Game drives with an expert ranger are made even more exceptional as the guide explains wildlife behaviour and gives valuable insights that are fun yet educational.
Another extraordinary experience is an African safari bush walk. Here, two guides will accompany guests, one will lead the party, and another will follow. Not only will these experts track animals, but they will also provide a holistic perspective on fauna and flora of the region.
Read More about Shamwari's Game Drives and Bush Walks
Last, but not least, birding at Shamwari will keep bird watchers on the edge of their seats or the tips of their toes. Thanks to multiple water sources on the reserve, birding can mean extraordinary sightings each day.
Read More about Birding At Shamwari
Fun for the Whole Family and a Safari for Kids
Not only do youngsters get to have a blast on a family African safari, but they also get a chance to learn more about our lovely planet. The minimum age for a safari is four years old. However, the safari tours for kids are exceptional. If your children are old enough, take them along because the rangers make sure that the little ones are entertained throughout the drive.
If your little ones are too young to join your game drive, they have plenty of romping opportunities at Shamwari's Kids on Safari Adventure Centre. Non-stop fun is waiting for the whole family at Shamwari.
Learn More about Shamwari's Kid Safari Programme
Your Luxury Safari Holiday is waiting for You!
The adventure of a lifetime is a click away. With Shamwari, you can experience the unforgettable and build lasting memories of wild Africa.