Is South Africa your dream holiday destination? Do you want to start planning, but have no idea where? Read through our comprehensive guide for some amazing ideas and recommendations on planning your South African tour.
There's a Plethora of South African Tour Packages Available for You
There are hundreds of exciting and unique South African tour packages to choose from – something to suit everyone. It all depends on what your holiday preferences are. Some tours last up to three weeks, offering you an extensive look at the whole country. Others are only a week long and focus on the most popular destinations within South Africa.
Package Tours in South Africa Can Include…
South Africa is an incredibly unique country, featuring several distinct ecosystems, which makes it a popular tourist and holiday destination.
For travellers wanting to go on safari, there are a plethora of inland destinations that are home to an array of impressive wildlife species.
If the coast is more your thing, the Western Cape Province especially includes a multitude of paradise beaches.  The exciting city of Cape Town is also a must-visit. It's one of the top cities in the world and is home to the iconic Table Mountain.
Experience the scenic winelands in the towns surrounding Cape Town:  Stellenbosch, Franschhoek and Paarl have some of the world's best vineyards. Enjoy mountainous cliffs at the Cape of Good Hope, marvel at gorgeous lagoons and forests that stretch along the Garden Route and have the time of your life experiencing anything and everything in between. The Western Cape has it all.
South Africa Photo Safari Tours and Packages
Whether you're an amateur or professional photographer and are keen on expanding your repertoire, consider booking a photographic safari. No matter what your skill level, you're sure to get something life-changing from the experience.
Many game reserves offer interested guests the opportunity to go on a photographic safari. What better subject matter to capture than South Africa's infamous Big Five? It's the perfect opportunity to take amazing photographic keepsakes back home to family and friends. Whether you opt for the ever-popular Kruger National Park or something a little more exclusive, like a private game reserve experience, photographic safaris are offered all across the country.
If you're looking for a more intimate and exclusive experience, look no further than Shamwari Private Game Reserve, located in the breath-taking and malaria-free Eastern Cape. Our photographic safaris are second to none.
Shamwari's two-day photographic safaris include:
Game Viewing Vehicle – Access to a game viewing vehicle specifically rigged for photographic equipment.
Photographic Tuition – This covers equipment selection, image composure, capture and post-editing.
Editing Equipment – Use of editing equipment and selected editing software packages.
Learn more about Shamwari's photographic safari offerings here.
Where to Go for the Top South African Safari Tour
If you're interested in going on a South African tour during your stay in South Africa, you have a variety of options to choose from. Whether you're interested in large and popular or exclusive and intimate, there's an ideal option out there for you.
The Kruger National Park is world-renowned as a safari destination teeming with diverse wildlife. Covering nearly two million hectares of land, there's a lot to see and experience.
There are numerous accommodation offerings to choose from, ranging from luxurious to rustic, depending on what tickles your fancy. Photographers can spend hours capturing the park's scenery, although you would require a private guide in order to get close enough to the wildlife to take some truly awe-inspiring shots. Many travellers choose to do self-drives through the park, however beware: it can get a bit overcrowded at times.
The Kruger National Park is also situated in a malaria-risk area, so make sure to take anti-malarial medication as a precaution.
Sanbona Wildlife Reserve is a safari destination in the heart of the Little Karoo. It is a mere three hours' drive from Cape Town and has a plethora of fauna and flora unique to the area. There are three luxury lodges to choose from on the 58 000-hectare reserve, which is also home to the Big Five. The reserve is also home to rare rock art, dating back more than 3 500 years. Rangers will take guests on guided safari drives twice a day.
Shamwari Private Game Reserve is a marvellous choice when seeking a more intimate and exclusive safari experience. It's also conveniently located a mere hour's drive from the friendly city of Port Elizabeth.
There are several unique accommodation offerings available at Shamwari, including the Explorer Camp – exclusive to those looking to partake in a walking safari, it offers a back-to-nature experience unlike any other.
What else makes Shamwari such a great safari destination, you ask? Two thrilling game drives per day, photographic safaris for avid photographers, a one of a kind Kids Adventure Centre, as well as lodges that provide the perfect hideaway for honeymooners, to name but a few reasons.
South African Tour: Wildlife Tours Accommodation Options
To see the most wildlife possible, we would recommend spending a minimum of two to three days in a single safari destination.
The Kruger National Park is by far the largest wildlife park in South Africa and offers a host of accommodation offerings. If you're looking for a more rustic experience, campsites are available, as well as huts and safari tents. However, if you're looking for a more family-friendly form of accommodation, there are cottages and guest houses available – equipped with kitchens for your self-catering needs. Lastly, if you're looking for luxurious accommodation offerings, there are a variety of lodges available that promise an exclusive, private and opulent stay.
Sanbona Wildlife Reserve has three luxurious lodges and an Explorer Camp on offer. Their luxurious lodges include:
Tilney Manor – A historical oasis in the Little Karoo, offering views of the surrounding mountains and plains. It consists of six rooms.
Dwyka Tented Lodge – This eco-friendly accommodation option features nine luxurious tents and offers an atmosphere of secluded indulgence in the Little Karoo.
Gondwana Family Lodge – The perfect solution for families, this lodge has six interconnecting suites and offers a great Kids on Safari programme.
Sanbona Explorer Camp – An accommodation offering exclusive to those interested in the authentic walking safari, this rustic back-to-nature experience in a beautifully shaded thicket in the heart of the reserve promises to be a memorable experience.
Shamwari Private Game Reserve has several unique and luxurious accommodation offerings scattered across our 25 000-hectare reserve. These lodgings are:
The Best South African Tours and Destinations on Offer
In order to see the very best South Africa has to offer, we would suggest choosing a tour that allows you a taste of the most popular, insightful and magnificent destinations and attractions. Sample a little bit of everything while you're here to make the most of your trip.
Have a look at our top ten must-see destinations – and their various attractions – for travellers exploring South Africa. Get some travel inspiration today.
1. Cape Town
The city of Cape Town is one of the most beautiful and culturally unique destinations in South Africa. Cape Town offers a host of activities for travellers to take part in, so you can spend more than a few jam-packed days in this gorgeous city and still not have explored it all. The all round South African tour.
Table Mountain truly is a natural wonder and offers breath-taking views of the city. It's easily accessible by cable car or, if you're adventurous, you could also hike up this beautiful mountain.
Robben Island is a World Heritage Site, featuring a museum that offers daily tours. It served as the infamous prison that housed Nelson Mandela during his 27-year sentence.
Kirstenbosch National Botanical Garden is acclaimed as one of the great botanical gardens in the world. A must-visit destination for lovers of all things floral.
Our final must-visit recommendation for Cape Town would be Boulders Beach, where a large colony of approximately 3000 African penguins make their home on a white sandy beach.
2. Hermanus and Gansbaai
The quaint town of Hermanus is known as the whale watching capital of South Africa. Peak whale watching season is between the months of July and December. Enjoy a beautiful scenic drive from Cape Town to Hermanus. There are opportunities to view these gentle giants from either boat, land or air. Southern right whales are the main species of whale seen here and sometimes, if you're lucky, you'll catch a glimpse of a humpback whale.
For those that are looking for something a little more daring, Gansbaai is the place to be. It's the great white shark capital of the world and the town offers shark cage diving experiences year-round.
3. The Cape Winelands
The Cape's various wine regions are not to be missed on your tour. It stretches from Paarl to Franschhoek and Stellenbosch and offers spectacular scenery and rolling hills. Most wine estates offer a lunch, paired with some of their finest wines – a real treat for wine connoisseurs.
4. The Garden Route
The Garden Route is a beautiful stretch of the south-western coast of South Africa, which extends from Mossel Bay in the Western Cape to the Storms River in the Eastern Cape. It is about 300 kilometres in length and offers an array of activities in the lovely towns along the way. These towns include Victoria Bay, Wilderness, Knysna, Plettenberg Bay, Tsitsikamma, Storms River, Sedgefield, Oudtshoorn and one of the world's surfing capitals: Jeffreys Bay.
Knysna is situated in the heart of the Garden Route and is the perfect town to stay in while exploring the surrounding area. The town is surrounded by forests, while at the same time being located next to a tropical lagoon that is popular amongst sailing enthusiasts.
The Tsitsikamma area has lovely hiking and mountain biking trails, as well as fun zipline tours for the adventurous. If you're really brave, take the plunge and bungee jump at the Bloukrans Bridge – the world's highest commercial bungee bridge.
Click here for five more reasons to love the Garden Route.
5. Oudtshoorn
Oudtshoorn is a town situated along the Route 62 wine route and is known for its multitude of ostrich farms. Meet ostriches face to face and learn more about these peculiar animals at the Highgate Ostrich Show Farm. Situated just outside Oudtshoorn, the Cango Caves are a must-visit. This spectacular underground wonder of the Klein Karoo lies at the head of the picturesque Cango Valley. These caves consist of a 20-million-year-old network of limestone chambers and are the only show cave system in Africa that is classified as a World Heritage Site.
6. Go on Safari – Various Locations
There's nothing quite like seeing the Big Five up close on safari. End your Garden Route adventure with a stay at Addo Elephant National Park. It's the third largest national park in the country and is home to hundreds of majestic African elephants.
If, however, you're looking for a more exclusive and luxurious safari experience, consider Shamwari Private Game Reserve – where guests can immerse themselves in nature and exist in harmony with hordes of spectacular wildlife.
7. Johannesburg
Visit the city of Johannesburg – it's a must. South Africa's largest city started out as a 19th century gold-mining settlement. Its extensive Soweto township was once home to Nelson Mandela and Desmond Tutu: two iconic men in South Africa's history. Nelson Mandela's former residence is now the Mandela House Museum, which tourists can visit.
If you're travelling with your family and are looking for fun for the kids, visit Johannesburg's famed amusement park, Gold Reef City, for roller coaster rides and the likes. Want to shop 'til you drop? Visit Sun City Resort, where the children can play up a storm whilst you shop or treat yourself to a spa treatment.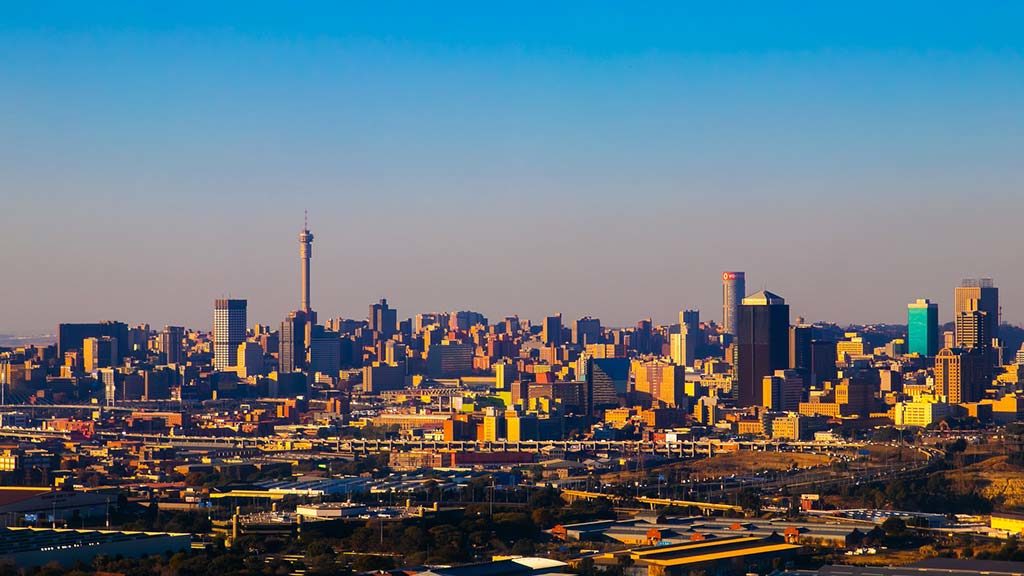 8. The Cradle of Humankind
The Cradle of Humankind is a paleoanthropological site about 50 kilometres northwest of Johannesburg and is one of eight World Heritage Sites in South Africa. Renowned as the earliest known location where humankind originated from – it is here that the first hominid, Australopithecus, was found in 1924 at Taung, in the North West Province, by Professor Raymond Dart of the University of the Witwatersrand.  A truly fascinating find indeed!
9. uKhahlamba – Drakensberg Park
The uKhahlamba-Drakensberg Park is situated in South Africa's KwaZulu-Natal Province. This park covers an extensive area and is part of the Drakensberg, which is the highest mountain range in Southern Africa. The Drakensberg range is more than 200 kilometres long and combines rugged peaks with verdant valleys and spectacular backdrops. Together, all of this forms a dramatically beautiful setting.
10. Blyde River Canyon Nature Reserve
The last stop on our recommendations list would have to be the Blyde River Canyon, situated in Mpumalanga and forming the northern part of the Drakensberg escarpment.  It is a vast, scenic gorge where travellers can find both tours and lodging facilities. While it's difficult to compare canyons world-wide, Blyde River Canyon is one of the largest canyons on earth. It may, in fact, be the largest 'green canyon', due to its lush subtropical foliage.
Private Safari Tours in South Africa
There are numerous parks and reserves that offer private safari tours throughout South Africa. These tours showcase the best of each destination. Rest assured: you will be in the capable hands of a professional field guide, who will remain with you for the duration of your safari, to ensure that all your needs are met and that the tour exceeds your expectations. A private safari is an excellent way of getting up close and personal with South Africa's gorgeous fauna and flora.
Read what popular blogger, Loren Cohen, wrote about her top 3 safari experiences in South Africa.
When going on safari, Shamwari highly recommends you bring:
Cameras, lenses and binoculars
Light clothing for summer safaris
Bathing suits for the pool areas
Comfortable walking shoes
Sunscreen and hats
Warmer clothing for winter stays
What You Need to Know About Tours and Travel in South Africa
If you've never travelled to South Africa before, here's some important information you will need to know for your South African tour:
1. Requirements to Enter South Africa
Entry into our beautiful country is usually hassle-free. Please note that all visitors need to be in possession of a valid passport, however, visas are not required, depending on which passport you are travelling on and the number of days you intend to be in South Africa.
As of June 2015, people travelling with minors (people under the age of 18) are required to be carrying an unabridged birth certificate, in addition to their passport. Furthermore, as per South African law, upon your arrival in the country, you need to ensure that your passport has at least two full pages open for stamps upon your arrival in South Africa.
Please contact your nearest South African Embassy or consulate for the latest visa requirements. Additionally, travellers over 1 year of age coming in from high-risk areas need to bear a yellow fever inoculation certificate.
2. Climate
South Africa enjoys a relatively warm climate year-round. During winter, expect to experience temperatures that range between 7 and 22°C. In the summer months, temperatures can reach between 16 and 36°C. If you want warm weather plan your South African tour with regards to the respective months, hot or cold.
3. People and Language
South Africa is a nation home to many different cultures. In total, we have 11 official languages, including English, which is widely spoken throughout the country.
4. Driving in South Africa
In South Africa, we drive on the left-hand side of the road and wearing a seat belt is compulsory. Non-residents are permitted to drive with a driver's license issued and valid in their own country. However, it must be in English and feature the photograph and signature of the holder. If yours doesn't meet these requirements, an international driver's license is required.
5. Currency
The local currency is the South African Rand (R1 = 100 cents), which exchanges favourably with all major international currencies. Foreign tourists can have their VAT (value-added tax at 15%) refunded at their point of departure, provided they present their original tax invoices.
South African Tour: Reviews
What better way to decide on choosing a holiday to South Africa than looking at reviews of travellers that have been to the country? The South African Travel Guide has a host of helpful reviews on their website that can make your holiday decision an easy one.
South Africa – Southern Star
"I've been in and out of South Africa regularly since I was five years old. The more I visit this huge complicated country, the more passionately I come to love it. It isn't perfect – nowhere is – but in many ways it comes close, as a wildlife destination as in other ways."  – Melissa Shales
Wild Africa Tamed
"Ever since I first stepped foot on South African soil in 1996 no other place feels more like home than coming back to South Africa. Everything about this place sings to my soul. South Africa is truly one of the most exciting and beautiful countries you could ever wish to visit. A rich history, diverse cultures, abundant wildlife, mesmerising landscapes and sophisticated cities – it has it all; plus, more." – Kim Wildman
Big 5 for Beginners
"With excellent infrastructure, roads and transport links, good value for money, beautiful landscapes, low malaria risk and an abundance of the Big 5, South Africa is the perfect destination for first-time safari goers and self-drivers, and for those on a tighter budget or time frame." – Christopher Clark
To view more reviews on travelling and tours to South Africa, click here.
TripAdvisor also features a list of 'South Africa Tours', with reviews on each and every one.