Africa travel destinations are absolute magic. South Africa especially has much to offer. Visit Shamwari in the Eastern Cape Province to experience true luxury.
"The only man I envy is the man who has not yet been to Africa – for he has so much to look forward to." – Richard Mullin
The Top Africa Travel Destinations
1. Egypt
2. Morocco
3. Kenya
4. Rwanda
5. Tanzania
6. Zimbabwe
7. Botswana
8. South Africa
9. Seychelles
Take a Trip to Africa
It's no surprise that Africa is one of the most popular holiday destinations in the world. Being the world's second largest continent, Africa has a vast range of landscapes, offering endless holiday destinations ranging from thrilling safaris to tropical islands. This captivating continent has a wealth of heritage and culture. With 54 vastly different countries to choose from, it's pretty hard to narrow it down to the top contenders, but we've done it. Here's our list of top holiday destinations in Africa, to help get you started with your Africa travelitinerary.
1. Egypt
Travel back in time by exploring this country's ancient pyramids and temples. Situated in North Africa, Egypt has numerous fascinating attractions. These include Giza's colossal pyramids and Great Sphinx, as well as Luxor's hieroglyph-lined Karnak Temple and the tombs of the Valley of the Kings. The island reefs near the resort of Hurghada and the smaller settlements of Port Safaga, El-Quseir and Marsa Alam to the south are a must-visit for any tourist! Adventurous activities such as shark-diving, snorkelling, and kitesurfing are complemented by golf courses, private beaches, open-air cinemas and unrivalled night life scenes.
2. Morocco
Bordering on the Atlantic Ocean and Mediterranean Sea you will find Morocco. This country is defined by its dizzying diversity. From the grand Atlas Mountain range to its ancient cities and all-encompassing deserts, Morocco has a lot to offer tourists. Go trekking in the picturesque Atlas Mountain range, including Mount Toubkal, the highest mountain in North Africa. Another great experience is the Djemma el Fna market in Marrakesh's Medina quarter. Here you can shop 'til you drop and try authentic Moroccan cuisine – a real treat!
3. Kenya
Kenya is one of the best destinations for seeing herds of wildlife in East Africa. This vast country has one of the most famous national reserves, the beautiful Maasai Mara National Reserve. The Massai Mara is described as having rolling landscapes and massive herds of wildebeest and zebra. It is an area of preserved savannah wilderness along the Tanzanian border. Popular animal sightings at the Maasai Mara National Park include lions, elephants, zebra and the wildebeest that traverse its plains during their annual migration.
4. Rwanda
Rwanda is one of the smallest African countries in Central Africa. It is known as the land of a thousand hills and is home to the critically endangered mountain gorilla – of which only 900 remain in the wild and half happen to be in Rwanda's Volcanoes National Park.  Travellers come from all over the world to catch a glimpse of these magnificent creatures.Other highly recommended activities in Rwanda include hiking to see the endangered golden monkeys in the Virungas, visiting Iby'Iwacu Cultural Village and exploring Nyungwe Forest National Park, where you can see chimpanzees and monkey species in the wild.
5. Tanzania
Another destination to add to your Africa travel list is East African destination is Tanzania. This country is known for its vast wilderness areas and is home to Mount Kilimanjaro – the highest mountain peak in Africa at 5 895 metres above sea level. Conquering this imposing mountain has become a popular bucket list activity for many adventurous travellers. If you'd rather have a relaxing seaside holiday, Zanzibar is the perfect destination where white sandy beaches on gorgeous islands await! Animal lovers should absolutely visit the Serengeti National Park, where you can set your eyes on the Big Five or perhaps the massive herds of wildebeest during their yearly migration – if you time it just right.
6. Zimbabwe
In Zimbabwe lies the world's largest waterfall and one of the seven natural wonders of the world: the Victoria Falls. Other activities include whitewater rafting, bungee jumping, microlight flights and river cruises on the lower Zambezi River. The Hwange National Park is a large safari destination that features numerous species of animals, ranging from lions and elephants to wild dogs.
7. Botswana
Botswana is located in Southern Africa and is home to the Okavango Delta – a vast inland river delta that is known for its extensive grassy plains, which flood seasonally to become a lush animal habitat. Moremi Game Reserve and Chobe National Park are two other popular national parks in this beautiful country. Both are home to fascinating animals such as crocodiles, hippos and elephants, to name only a few. Safari goers also love to visit Kgalagadi Transfrontier Park – a vast wildlife preserve characterised by red dunes and dry rivers. Wildlife includes migrating herds of wildebeest and springbok, as well as predators such as the Kalahari lions.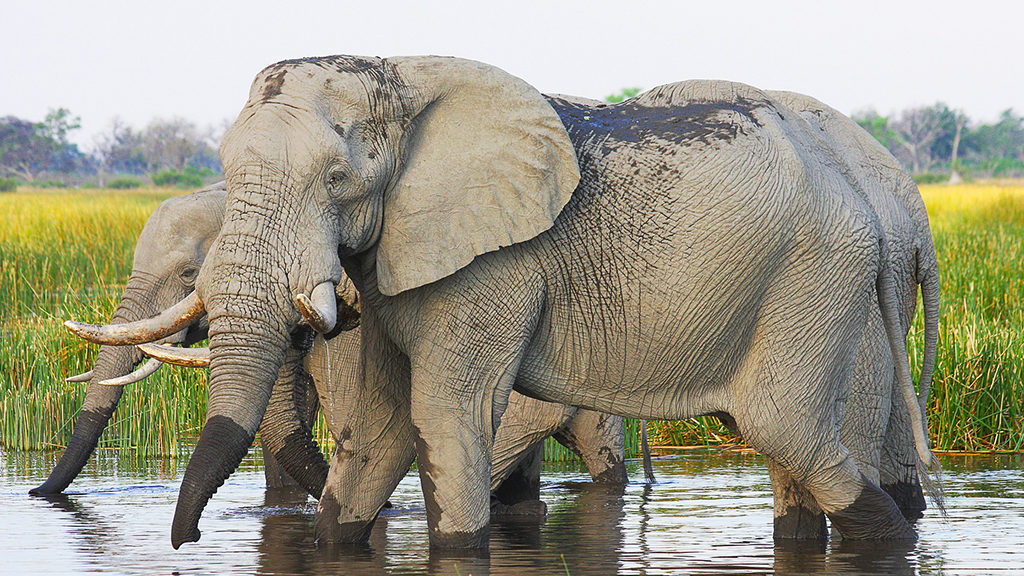 8. South Africa
South Africa consists of several provinces – all of which include numerous popular holiday destinations. From the beautiful city of Cape Town, located in the Western Cape, to the friendly city of Port Elizabeth, located in the Eastern Cape – each destination has a host of wonderful activities to offer travellers. South Africa has a wealth of cultural diversity and picturesque landscapes that are sure to steal your heart. Travel along the Garden Route, a scenic driving route along the coast,or see the Big Five by visiting the Kruger National Park.If you'd prefer a more luxurious private safari experience, consider Shamwari Private Game Reserve in the scenic Eastern Cape.
9. Seychelles
The Seychelles is an extensive island group in the Indian Ocean, consisting of 115 islands, off the East African coast. This breathtakingly beautiful destination is perfect for travellers wanting to explore or honeymooners wanting to escape to paradise. These tropical islands are an absolute must-visit! For adventurous types, there are zip lines, scuba diving, rock climbing and deep sea fishing.There are also excursions such as island hopping around Praslin, one of the many islands in the Seychelles.
Holidaying in South Africa– Must-Visit Locations for Your Africa Travel Itinerary
With South Africa being one of the most popular travel destinations on the African continent, we've compiled a list of some of its must-visit locations, the best time of the year to pay a visit and so much more.
When vacationing in South Africa these are some must-see spots to add to your Africa Travel Itinerary:
Cape Town – Visit Table Mountain, which overlooks the city, and make the most of the beautiful beaches.
Paarl – Visit the vineyards for a wonderful wine tasting experience.
Plettenberg Bay – Take a walk or hike in the stunning Robberg Nature Reserve.
Gansbaai – Shark cage diving and whale watching are a firm favourite in this charming coastal town.
Tsitsikamma National Park – This gorgeous national park features zip lines, scenic mountain biking trails and hiking trails.
Shamwari Private Game Reserve – For a private and luxurious five-star experience, go on a Big Five safari at Shamwari.
What is the Best Month to Visit South Africa?
South Africa enjoys a warm climate year-round.
Generally, summer weather falls within the months of October to April, with much of the country being relatively warm and sunny. These months are also known as South Africa's high season – when many foreign travellers choose to visit our beautiful country.
Winter weather falls within the months of May to September in South Africa. The temperatures are generally still mild, although it does get cold in the evenings and early mornings. These months are known as our low season, when foreign travellers are few and far between, making it a quieter time to visit.
Click here for a great article with more information on the various seasons and when to plan a visit to this wonderfully unique part of Africa.
Average Travel Costs in South Africa
South Africa is an inexpensive holiday destination. The local currency is the South African rand (R1 = 100 cents) which exchanges favourably with major international currencies. Foreign tourists can have their VAT (value-addedtax at 15%) refunded at the point of departure, provided they present their original tax invoices.
According to Budget Your Trip, R1343 ($91) is the average daily cost for traveling in South Africa. This lovely website has broken down the cost in terms of expenses incurred on a holiday, making it easier to determine your budget for your South African vacation. Find them here.
Luxury South African Travel at Its Finest
For an unprecedented luxury safari experience, consider Shamwari Private Game Reserve in South Africa's malaria-free Eastern Cape Province. Shamwari is a mere hour's drive from the friendly city of Port Elizabeth. Take your Africa Travel to another level!
Covering thousands of hectares of pristine wilderness, Shamwari is conservation oriented and has several lodges offering opulent accommodation for all types of travellers:
1. Long Lee Manor – Guests can immerse themselves in nature whilst on safari at this spectacular lodge. The historical manor house, dating back to 1910, offers uncompromised luxury in an unprecedented setting. A true Shamwari treasure.
2. Riverdene – Surrounded by a wealth of natural beauty, Riverdene Family Lodge overlooks the widespread bushveld of the Eastern Cape. The newly renovated lodge is the ideal place for families to bond for hours as gentle giants roam in the distance.Children can play up a storm in the Kids on Safari Adventure Centre.

3. Sarili – Perched on the banks of the Bushman's River, Sarili Lodge provides the perfect bush experience. The modern interiors, coupled with exclusive amenities, mean you're never too far from superior comfort.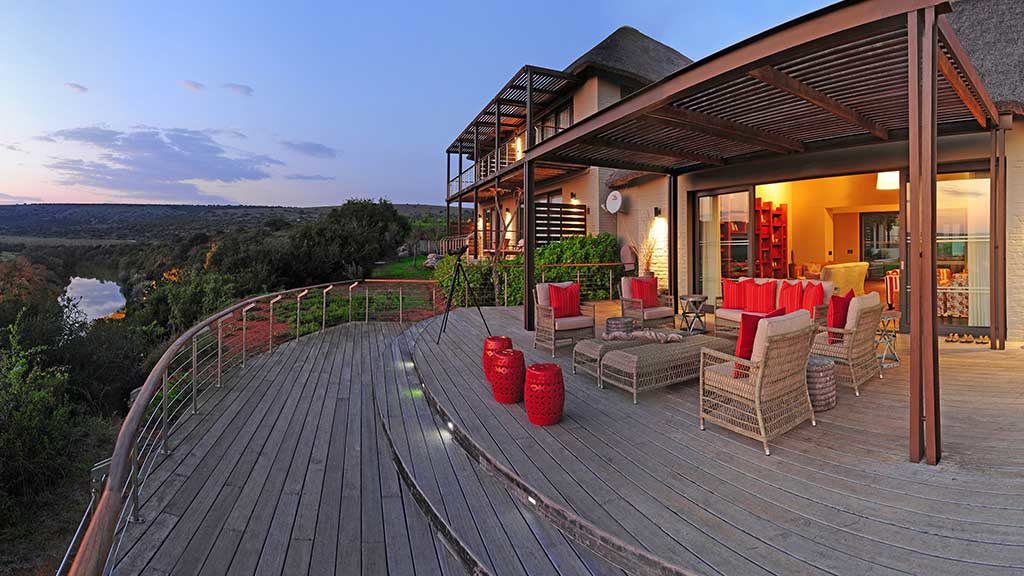 4. Sindile – Shamwari's new luxury tented camp is a secluded, luxury getaway set deep in the African veld. The tents are elevated above the surrounding bush, allowing uninhibited views. The harmonious, intimate design minimises the environmental footprint.
5. Eagles Crag – Inspired by exclusivity, this lodge blends luxury with the unprecedented perfection that nature offers. To ensure an unforgettable experience, the lodge's upper deck – with aerial viewing pods – provides panoramic views of the surrounding rock faces, where eagles soar.
6. Lobengula – Tucked away in the depths of the bushveld lies the tranquil Lobengula Lodge. This private lodge has been designed to resemble a traditional African kraal, boasting views of the mountains and valleys.
7. Bayethe – This lodge offers guests the opportunity to immerse themselves in utter tranquillity, surrounded by the rich vegetation of the unique location. A tented paradise that provides privacy and a feeling of seclusion with spectacular views of the African bush.
8. Explorer Camp – Adventure inspired by nature defines our Explorer Camp. This once-in-a-lifetime experience takes guests on a guided walking safari of the surrounding land, allowing you to get up close and personal with nature in our summer season.
For more information on these individual lodgings, visit Shamwari's website here.