South African Trees are some of the most impressive trees in the world and a must-see when you visit our amazing country. South Africa is also home to exquisite landscapes, thrilling outdoor activities, and vibrant culture. Discover the quiet and steady side of this colourful country and go on a tree safari.
Nature-lovers often flock to South Africa, and for a good reason. The diverse animal species and bountiful plant life make this ever-changing landscape one worth seeing. South African trees are amongst the top in the world – they are unique, nutritious and old. Some specimens have passed the millennium mark while others tower over the competition – claiming champion tree status.
Read on to discover the indigenous trees in South Africa that must make your bucket list.
Indigenous Trees of South Africa Thrive in Different Biomes
South Africa has such a wide variety of plant life that flourish in a range of climates – from dry to rainy. Of all the natural biomes in the world, the South African landscape has eight. These include:
Nama Karoo
The succulent Karoo
Fynbos
Forest
Thicket
Savannah
Grassland
Desert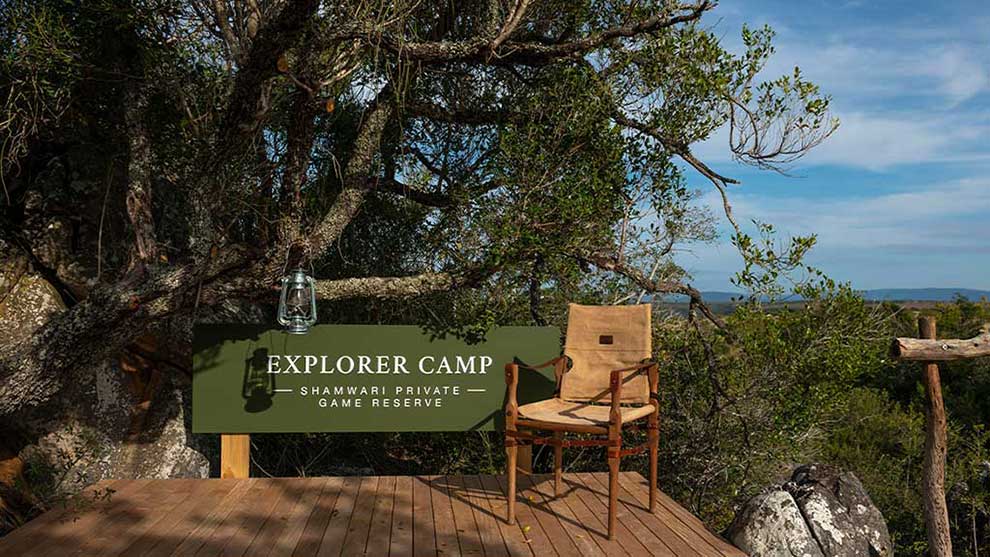 Of these, Shamwari has five. The Eastern Cape is where many different climates meet: the dry arid desert inland; the tropical environment from the northern part of the country and the bushy fynbos from the south. This meeting place of ecosystems is where a multitude of ofSouth African trees and plants flourish and thrive.
Discover South African Trees at Shamwari
Its abundant plant life makes Shamwari one of the best places for a tree safari. Here plant-lovers can explore the richness of our country during a game drive, on a guided safari walk or from the comfort of one of the exquisite luxury accommodations on the game reserve.
Explore Shamwari Accommodation Game Drive & Safari Walk
Tracking Trees and Wild Animals
One of the most exciting experiences at Shamwari is the Indigenous San Tracking. Here, guided by an expert game ranger, guests see the world through the eyes of traditional South African hunter-gatherers. As the expert trackers lead you through the bush, you can come face to face with South Africa's wild animals and flora.
The most exquisite, impressive and uniquely South African trees are but a game drives away. Read on to learn about the trees that need to be on your bucket list!
Spekboom (Aka Pork Bush, Elephant Bush, Dwarf Jade)
Portulacariaafra
Spekboom might seem like an unassuming succulent plant, but in reality, it is a tree with medicinal properties, rich nectar and a delicious tangy flavour perfect for salads. Red stems give structure to the spekboom plant while green, fatty succulent leaves crown the branches. During South Africa's spring and summer seasons a well-watered spekboom bursts into bloom, showcasing pretty pink flowers.
What makes a spekboom special is its uses. This wonder plant can alleviate skin conditions, quench thirst, treat mouth sores, increase a mother's milk supply and be used in construction.
Spot a spekboom on your next safari trip; they thrive in the bushveld and semi-arid desert environments. The elephants love spekboom on Shamwari Private Game Reserve – book your visit to see them delve in.
Baobab (Aka Bottle Tree, Upside-down Tree)
Adansonia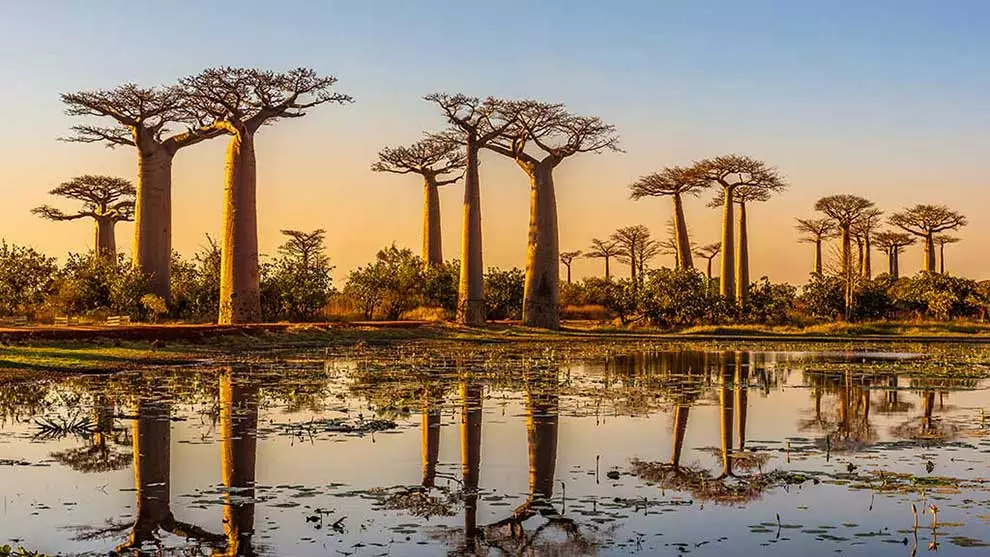 One of the most iconic trees in South Africa is the Baobab tree. Not only does this unique tree provide vitamin C to those who feed on its fruit, but it is also known as the tree of life – it can store up to 4,500 L of water in its trunk. The tree's impressive stature makes its strange upside-down appearance even more imposing. It can grow up to 20m tall and can live for up to 3000 years. One of the biggest baobab trees in South Africa might even have reached the 6000-year mark.
The sheer expanse of the plant means that they can create and sustain a mini-ecosystem. As the tree ages its centre hollows and can provide shelter to birds and animals. Some baobabs are among the South African trees that have claimed champion-status.
Marula
Sclerocaryabirrea
The marula fruit is a firm favourite of the creatures that live near this South African tree (that can grow up to 18m tall!). Bright, juicy yellow fruit sustain insects, birds and animals but overripe fruit can often intoxicate wildlife as its alcoholic content skyrockets as it ripens. The marula tree and its fruit have many uses, which include: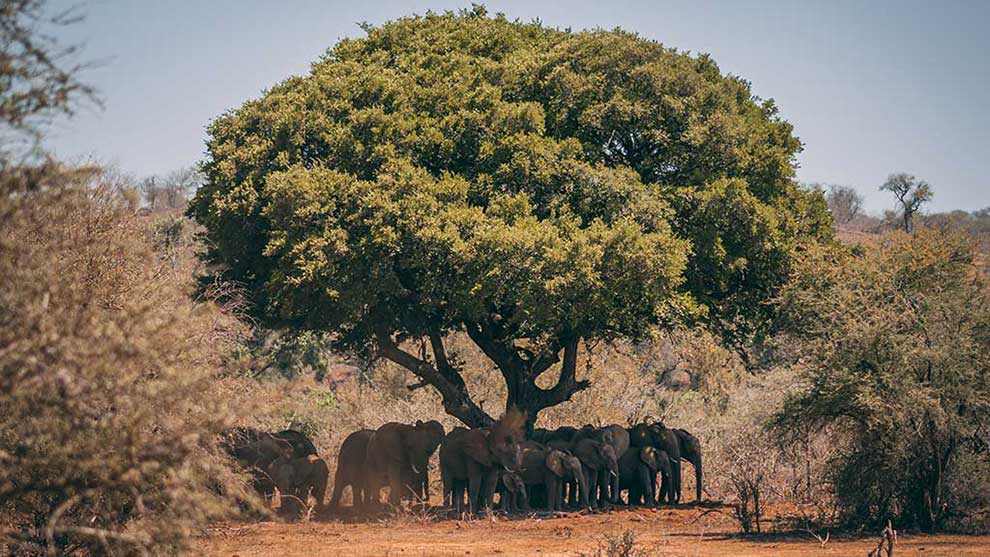 The marula fruit is a firm favourite of the creatures that live near this South African tree (that can grow up to 18m tall!). Bright, juicy yellow fruit sustain insects, birds and animals but overripe fruit can often intoxicate wildlife as its alcoholic content skyrockets as it ripens. The marula tree and its fruit have many uses, which include:
Marula wood can be used for carving
Dried marula fruit skins can be used as a coffee substitute
Inhaling the steam from boiled bark could assist in upper-respiratory problems due to its antihistamines
Softened bark, pulped, can lessen the effect of diarrhoea and dysentery
Marulas can be used to prevent malaria (Take note: Shamwari is a malaria-free destination)
Green marula leaves can reduce heartburn
Mopane (Aka Butterfly Tree, Turpentine Tree)
Colophospermum mopane
Butterfly-shaped leaves make the deciduous mopane seem magical come autumn. After winter the bare branches fill up with small green flowers and new leaves. The Shona people were first to spot that the oblong-shaped leaves resemble butterfly wings, hence the Shona word for butterfly, mopane. The proudly South African tree can be a stout shrub (aka the mopane scrub) or a 25m-tall tree, depending on the soil and weather conditions. Elephants love mopane leaves, but their avid grazing often causes stunted growth.
Mopane moths populate the butterfly tree. These insects, when in caterpillar form, are a nutritious food source in African communities.
Quiver tree (Aka Kokerboom)
Aloidendrondichotomum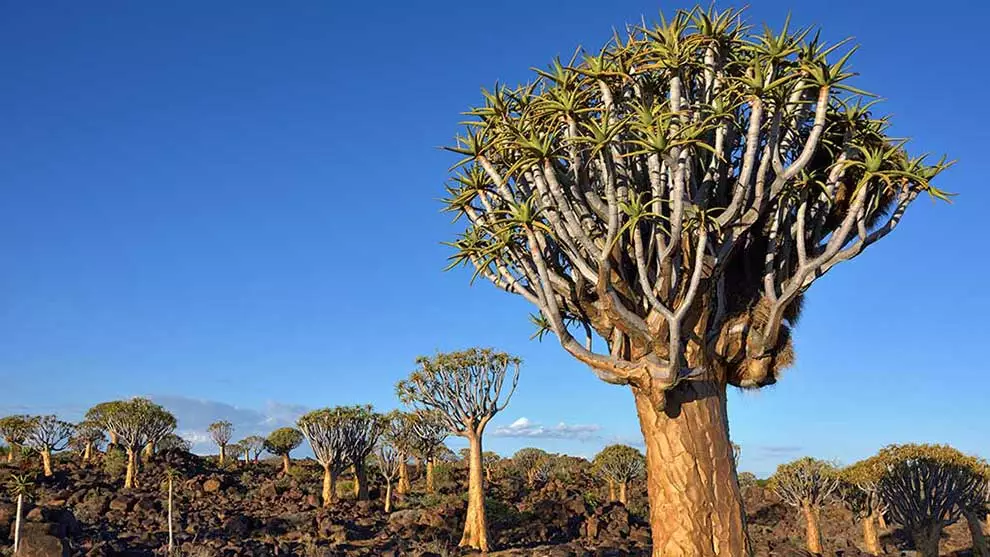 The quiver tree is the largest known aloe species. It is unusual in its class as it can reach heights of up to 7m, very unlike a typical succulent. There are three subspecies of the quiver tree, the largest, the giant quiver tree (Aloe pillansii) is critically endangered. Seeing one of these relics equals witnessing a piece of history as they can live for up to 380 years.
The Namib people used dried bark as a base for their arrows. Boiled roots can treat asthma and crushed leaves can ease discomfort from skin disorders or burns.
Sausage Tree
Kigelia Africana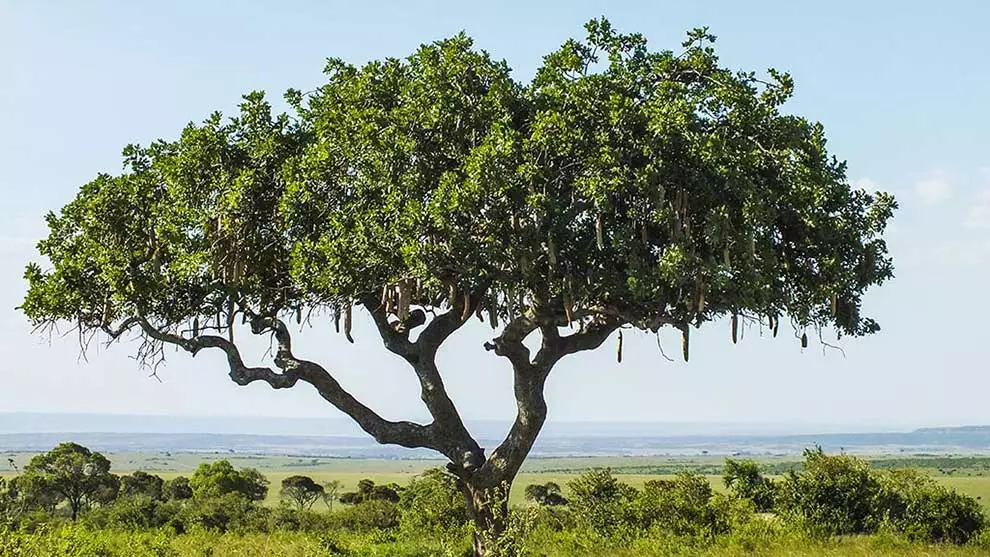 Sausage-shaped fruit makes the sausage tree immediately distinguishable. The dangling fruit can grow up to 60cm long. Apart from their odd appearance, the fruits stand out due to its many uses. These include:
Treatment for leprosy, skin boils, psoriasis, eczema and fungal infections
In some cases, the fruit may cure or treat postpartum haemorrhaging, pneumonia, rheumatism and diabetes.
Beer fermentation
As pain reliever and to alleviate skin burns
Gel made from the fruit can be used as a hair styling product
Yellowwood
Podocarpuslatifolius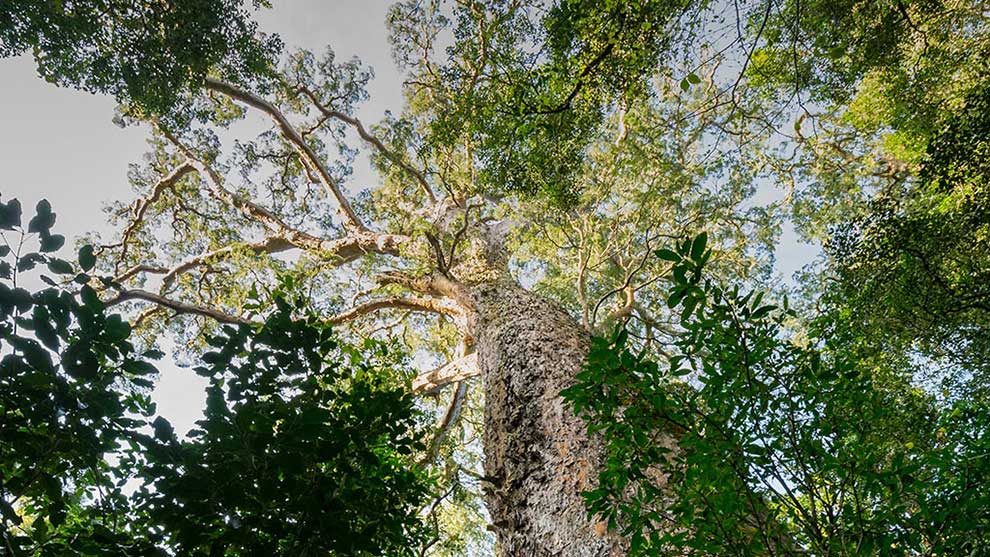 The yellowwood tree can grow to more than 30m tall. The towering canopy provides a vibrant feeding ground for birds and insects. Real yellowwoods are a Protected Species and also South Africa's national tree. One of the biggest trees in South Africa largest specimens is in the Tsitsikamma forest and stands over 36m tall. This South African tree is over 600 years old and had many of its like before tree felling became popular.
Fever Tree (Aka Koorsboom)
Vachelliaxanthophloea
Seeing a fever tree for the first time may feel surreal. Its smooth, lime green trunk gives the tree an almost alien appearance. During spring bright, yellow flower clusters cover the fever tree's canopy and hide the more prickly part of the tree – its thorns. Insect-eating birds use these thorns to skewer and keep their latest catch until they are ready for feasting.
The fever tree's name comes from the belief that it caused fever and illness to those who decided to sit underneath its branches. However, the trees grow in swampy areas – the ideal breeding ground for mosquitos. Hence, malaria-carrying mosquitos caused disease. This does not deter animals from lounging near a fever tree, nor them from feeding on its seedpods and leaves.
Surprisingly, a fever tree's bark can be used to relieve fever and eye problems.
Indigenous Trees of South Africa Lure Beautiful Birds
Birding fanatics could look forward to not only spotting some of the rarest birds in the world but spotting them in some of the most exquisite trees in South Africa. If you're curious about which birds you're likely to spot in Eastern Cape, here is the list of the most sighted and the supernovas – the ones you really want to tick off of your list.
Shamwari's South African Birds
Speckled Mousebird
White-starred Robin
Cape Longclaw
Malachite Kingfisher
Pied Kingfisher
Secretary Bird
Pale Chanting Goshawk
Martial Eagle
Knysna Turaco
Olive Bushshrike (Ruddy Form)
Hamerkop
White-fronted Bee-eater
African Paradise Flycatcher
Ant-eating Chat
African Spoonbill
Bokmakierie
Red-billed Oxpecker
Greater Double-collared Sunbird
Find out More About Shamwari's Bird Watching
Ready to discover more of South Africa?