Do you love being surrounded by nature? Are you an avid foodie or yoga practitioner on top of that? Then Shamwari has just the game reserve special for you. Read on to learn more about our delightful and exciting special offers.
A Safari Getaway Special Created Especially for Foodies and Epicureans
Do you take great delight in trying your hand at preparing new dishes? Is the Food Network your favourite TV channel? Or perhaps you enjoy nothing more than tucking into a gourmet meal at one of the trendiest new restaurants? If you're a lover of the finer things in life (especially when it comes to dining and accommodation), then you wouldn't want to miss Shamwari's Banquet in the Bush event.
The reserve's historic Long Lee Manor will play host to the very first Banquet in the Bush from 23-25 April 2021. It promises to be a weekend full of sensational culinary events, including cooking demonstrations by celebrated chefs, as well as food and drink personalities such as Craig Cormack (more popularly known as 'Salt Chef'), the craft distiller, Simone Musgrave (Musgrave Crafted Spirits) and Waterford Estate cellar master, Kevin Arnold.
If you wish to reserve your spot to attend the event, you'll pay a special rate of R4 750 per person per night sharing. Should you wish to extend your stay, you can book additional nights at a cost of just R3 950 per person sharing.
Banquet in the Bush Package Details
Included in the cost of our Banquet in the Bush Package is the following:
5-star, luxurious accommodation in a game lodge
Two (2) game drives per day – one (1) in the morning and the other in the afternoon
Guided bush walks, led by our skilled rangers
All meals
A visit to Shamwari's Born Free Big Cat Rescue and Education Centre
A Visit to Shamwari's Wildlife Rehabilitation Centre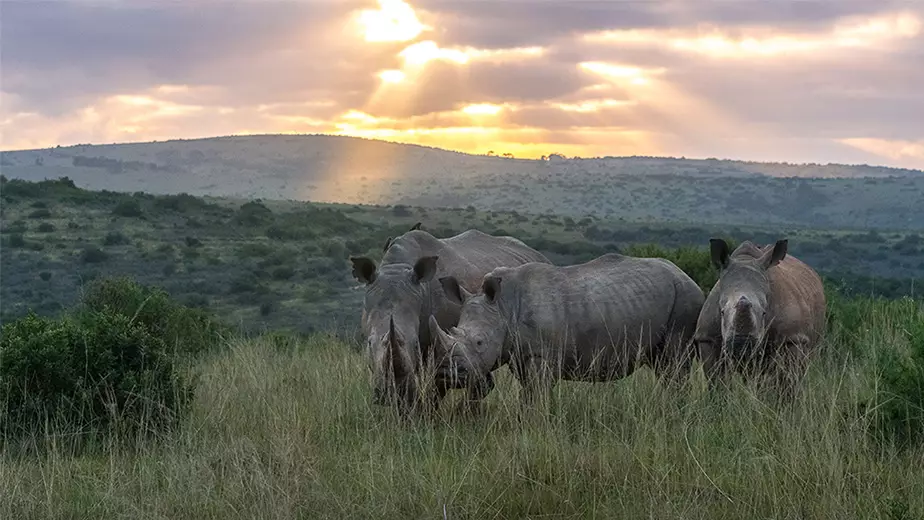 Banquet in the Bush Weekend Highlights
Some of the weekend highlights nature-loving foodies and epicureans get to look forward to are:
Cooking demonstrations held in Shamwari's 'Theatre of Flames'
A food and wine pairing menu, hosted by Craig Cormack and Kevin Arnold
A gin mixology masterclass, hosted by Simone Musgrave
The use of speciality ingredients, which include locally sourced Wagyu beef
A game drive gin and tonic sundowner stop featuring Musgrave Gin
*Please note that the Banquet in the Bush event is subject to availability, so be sure to make your reservation as soon as possible. The package excludes a conservation levy, as well as any laundry and spa treatments guests want to have done throughout their stay at the game and nature reserve. Contact us at our reservations department for more package details or visit our Specials & Packages page.
A Bush Getaway Special Designed Especially With Yoga Practitioners in Mind
Do you find yourself longing to reconnect with yourself and nature? Are you tired of dealing with the worries and stresses of everyday life? A yoga retreat to the scenic Eastern Cape sounds like the perfect medicine to rejuvenate you in mind, body and soul. Shamwari's new Yoga Weekend Getaway Package was designed to help give those seeking inner peace a tranquil escape from the anxieties of the outside world. You'll get to fully immerse yourself in nature's splendour and complete luxury during your stay.
The Yoga Weekend Getaway Package is another of the exciting Shamwari South African Specials 2021. The next yoga getaway takes place from 16-19 April 2021. The weekend will be filled with relaxing yoga classes and meditations, as well as wonderful nature excursions and good food. Plus, you'll get to unwind in one of our world-class accommodation options. Now, doesn't that sound simply divine?
Angela Bott, who has a background in Inyenga practice and is a trained teacher of Vinyasa yoga, will be the talented yogi leading the weekend's classes. She follows a mindful and slow approach in her yoga classes, which make them suitable for students/practitioners of all abilities. Whatever your level of ability, Angela's classes will have you leaving feeling at peace and more flexible in body and mind. She has done extensive work at health care and healing institutions throughout her career.
When reserving your spot on our Yoga Weekend Getaway you'll receive an up to 15% discount at a special rate of R4 850 per person per night. You can opt for either a 2-night or a 3-night stay. So pack your yoga mat and join us for a rejuvenating weekend at one of the top-rated game reserves in South Africa.
Yoga Weekend Getaway Package Details
When making your reservation for our next Shamwari Yoga Weekend Getaway, the following are just some of what's included in your package:
5-star accommodation in a luxurious safari lodge
All meals included
Two (2) game drives per day, with your dedicated game ranger – one (1) morning drive and one (1) afternoon drive
Guided bush walks, also led by your dedicated game ranger
Yoga Weekend Getaway Highlights
Yoga students/practitioners who are passionate about the natural world, as well as the finer things in life, can also look forward to the following during their Yoga Weekend Getaway:
Four (4) yoga classes, featuring meditations that are suitable for yoga students/practitioners of all levels, when you opt for a 2-night stay
Six (6) yoga classes, also featuring meditations that are suitable for yoga students/practitioners of all levels, when you opt for a 3-night stay
A visit to Shamwari's Born Free Big Cat Sanctuary
An experience at Shamwari's Wildlife Rehabilitation Centre
*Please take note that our Yoga Weekend Getaways are subject to availability, so make your reservation as soon as possible. For the weekend to take place, Shamwari requires a minimum of five bookings. The package excludes a conservation levy, as well as any spa treatments or laundry guests want to have done during their stay. Be sure to contact us at our reservations department for more information on this special or visit our Specials & Packages page.
Reserve Your Stay at One of the Lavish Accommodation Options On the Reserve
Shamwari Private Game Reserve has seven excellent game lodge options on its grounds (plus an Explorer Camp for the more adventurous guests). To ensure the safety of both our guests and staff during the ongoing COVID-19 pandemic, we have decided to temporality close some of our lodgings. These are:
As of March 2021, guest can book their stay at either the majestic Long Lee Manor or the exclusive-use Sarili Private Lodge. Long Lee Manor has undergone renovations as recently as 2019, with its adjoining accommodation also having been largely rebuilt. It features a gorgeous rim-flow swimming pool and consists of 17 luxurious rooms, plus a 2-bedroom suite. This manor house boasts incredible views of Shamwari's plains and, as it's been restored to pay homage to a bygone era, adds a touch of romance to every stay.
Sarili Private Lodge offers guests all the modern comforts they could desire while staying in the heart of the Eastern Cape. Its deck overlooks the Bushman's River, making for some spectacular views of the area. It's the perfect safari lodge accommodation option for families or friends who wish to indulge in a tailor-made, exclusive use wilderness experience. The lodge consists of 5 luxury rooms and can sleep a total of 10 guests.
Sindile will be the next safari lodge to reopen in June 2021, so be sure to check in with us regularly to learn about other lodgings reopening.
Why You Should Book Your Stay ASAP
As both the Banquet in the Bush event and Yoga Weekend Getaway are subject to availability, it's essential that you don't wait until the last minute to book your stay. Only a limited number of spaces are available for each retreat.
Although we plan on offering similar events and getaway specials in the future, you wouldn't want to miss out on some of the best safari lodge deals currently on offer. Also keep in mind that the special prices are valid for a limited time only. Prices for future events may vary, so you won't necessarily get to enjoy an indulgent weekend at the same cost…
Enjoy Game Drives, Gourmet Food, Rest and Relaxation and More on a Special Shamwari Breakaway
Why is a Shamwari retreat so special? Why, where else do you get to enjoy the unspoilt beauty of the South African landscape, along with thrilling game drives, mouth-watering food events, reinvigorating yoga escapes and more?
Shamwari has been a celebrated private game reserve for years, thanks to not only our commitment to offering guests a world-class experience but also because we remain conscious about conservation. The reserve is home to all members of the Big 5, as well as various other interesting creatures, both great and small. Five of South Africa's seven biomes can also be found within the reserve's borders, making it a place of great biodiversity.
Our reserve offers plenty of activities to keep guests of all ages entertained throughout their stay. Register your kids for the Kids on Safari Programme, enjoy guided game drives and bush walks, do some bird watching, go for a spa treatment or relax poolside with a nice cool drink. A stay at Shamwari will be the best safari retreat of your life.
What Past Guests of Our Game Reserve Had to Say
Don't just take our word for it – a quick Google search will provide you with thousands of glowing reviews for Shamwari and all it has to offer:
"My wife and I spent three fantastic days at Shamwari Game Reserve in April 2017. We came close to lots of beautiful animals, including all the [Big Five], but also many others, during two [three-hour] safaris each day. The weather was great, the guide (Stef) was excellent, the accommodation was superb, the food was very good, and the service was perfect. We are dreaming about going back as soon as possible." – Nils Axel, SafariBookings
"From the moment we arrived outside of Long Lee Manor we were continually amazed by the outstanding service provided by this landmark establishment. This was in spite of the special rates that have been implemented to make it more affordable to locals. One would have thought they may have cut the odd cost but no ways. The cuisine and well-priced beverages, indigenous and manicured gardens, spotless accommodation and pool area and beaming staff. Our ranger Jean took us on one of my best drives in a park in South Africa to date. Complimentary drinks and snacks at sunset [were] the perfect ending. Also saw a striped [polecat] and an owl eating a bird which [was] lifers for me! And their Covid precautions were right up there. Well done [to] hospitality manager Theo and his staff." – Roam794350, TripAdvisor
"Not only a restful stay but also an educational one. The rangers are friendly and informative. The service all round is outstanding. The food was spectacular. The game [sighting] was unforgettable." – Zarina Ebrahim, Google Reviews
We hope to receive you as one of our esteemed guests soon. Until then, start packing and get excited for the game reserve retreat of a lifetime!