Luxury Tented Camps Make Your Dreams a Reality at Shamwari
The Luxury Tented Camps at Shamwari provide you with great comfort in the middle of the wild outdoors. This is perfect for those wanting to escape the hustle and bustle of the city.
Want to get closer to nature, without having to compromise on a luxurious stay? Come and enjoy our Luxury Tented Camps experience.
What are Luxury Tented Camps?
Luxury and camping aren't words commonly used within the same context. Shamwari Private Game Reserve proves that it is indeed possible to upraise camping to a higher, more comfortable level.
Guests that enjoy an authentic vacation spent close to nature should consider this. The truly unique South African safari accommodation option of staying in a tented camp. Tented camps come in all shapes and sizes range from basic to luxurious. Most luxury tented camps are surrounded by rich vegetation. This truly creates a nature-filled escape from the outside world.
Imagine waking up to the sounds of the birds and watching the sunrise with those you love. These special memories will last you a lifetime.
Luxury Tented Camping Ideas
Shamwari offers guests one of the best luxury camping experiences available. You can choose between staying at the more rustic, but still luxurious, Explorer Camp. Our new flagship tented camp, Sindile, or the equally impressive Bayethe. Any of these camps will leave you satisfied.
Explorer Camp
Our Explorer Camp is available for bookings during South Africa's summer season. Guests are treated to a once in a lifetime guided walking safari of the surrounding land. You'll be hard pressed to get any closer to nature than this.
This camp consists of three tents, sleeping two guests each. All those interested in the walking safari are accommodated here. Those aged between 16 and 65 are permitted.
Dining by the campfire is one of the unique features this tented camp is known for.
Sindile Tented Camp
The brand new Sindile is a secluded, luxury haven. It is set deep in the African veld, allowing guests to get back to their roots. Reconnecting with themselves and nature. Sindile luxury tented camp is your escape from the daily grind.
This luxurious tented camp consists of 9 premier tents. They are sleeping a maximum of two adults each. Newly built in 2019, this exclusive camp offers every tent's guests access to a private heated plunge pool. We regret that no children under the age of 16 are allowed.
Bayethe Tented Lodge
Bayethe tented lodge gets its name from the African greeting, pronounced "By-ye-ti". This translates to "I salute you".  One of the warmest welcomes in the African culture in this area of the country.
For a luxurious and malaria-free experience, look no further indeed.
Bayethe camp features 12 superior tents. Each sleeps a maximum of two adults. All tents are equipped with a cosy fireplace – specifically perfect for cold bushveld nights. All rooms also have access to private plunge pools.
Call it what you wish. Glamping or luxury camping – A reality is created by Shamwari Private Game Reserve.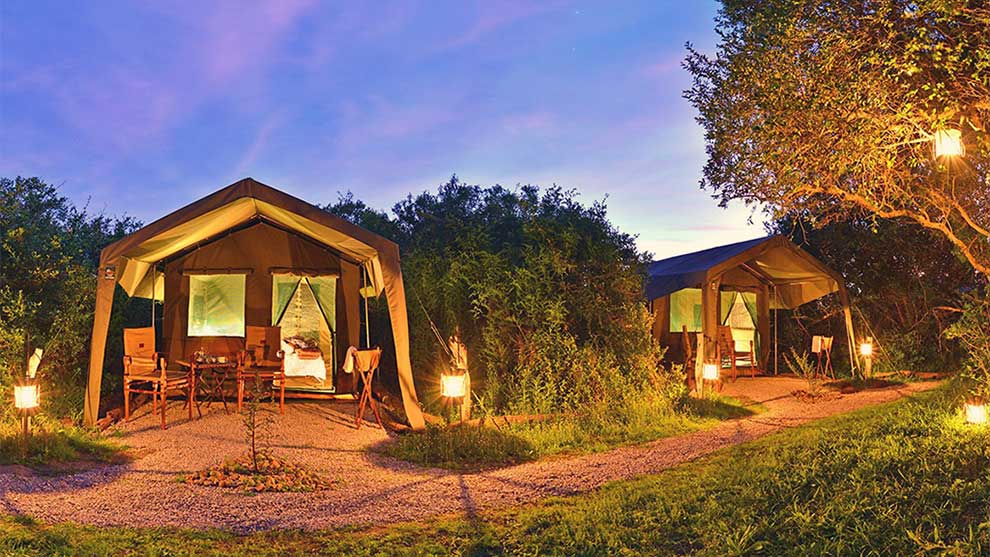 Our Luxury Safari Tents Provide So Much More Than Protection Against The Elements
Whether you choose to stay over in the Explorer Camp, Bayethe or Sindile, your safari vacation will truly be a memorable one.
As nature-inspired the Explorer Camp, you are taken back to the basics. The core ideals of our safaris reflect through this package as the bushveld amazes you.
The wilderness bush camp itinerary comprises a minimum 2-night trail. The trail operates Tuesday-Wednesday and Friday-Saturday. A third night is optional and available on request. Due to weather conditions, the trail is only operated from October to April.
Our Explorer Camp
Our Explorer Camp is subtly fenced in for safety reasons, but it retains its explorer ambiance. Tents are placed in close proximity without intruding on each other's privacy. The camp is set on a hill with a magical view.
Sindile Luxury Tented Camp
Sindile's nine luxurious free-standing tents are elevated above the surrounding bush. Our guests have access to spontaneous views, unblemished by any man-made structures or light pollution. The Sindile camp's dining area and bar are situated to make the most of the views on the reserve. Focal points include a large harvest table and fire pit.
Bayethe Tented Lodge
Bayethe Tented Lodge offers guests a once in a lifetime safari holiday experience. Hence to immerse yourself in utter peace. Subsequently being surrounded by the dense vegetation of this special location. Our Bayethe tented camp provides guests with privacy and a feeling of seclusion, while also showcasing spectacular views of the African bush.
Our Luxury Tented Camps Accommodation Features All The Comforts of Home
Shamwari's exceptional luxury tented camps options bring comfort to you. In fact, we believe our guests shouldn't have to compromise their comfort in order to experience nature to the fullest.
All tented camps are exclusively furnished. Therefore, all guests are promised a unique experience indeed.
Our Explorer Camp's tents are simplistic, yet comfortably equipped. All the modern necessities required to assure a memorable stay placed right in front of you.
Explorer Camp shared facilities include:
Deck on the basalt extrusions
Plunge pool
Outdoor bathroom with shower
Dining tent
Each Explorer Camp tent includes:
2x comfortable single beds and bedding
LED light for night time use
Guest amenities including insect repellent, shower gel and shampoo, as well as other essentials
Meals at the Explorer Camp are enjoyed around the campfire with exquisite silverware. Guests also get to wake up to freshly brewed tea and coffee, served in front of their tents every morning.
A classic portable bar equipped with fine crystal glassware allows for guests to enjoy a classic gin and tonic on the viewing deck.
While all safety precautions have been followed when setting up these facilities, guests are still treated to gorgeous panoramic views of the landscape.
Our new Sindile luxury tented camp's shared facilities include:
Reception and lounge
Gift boutique
Dining room with fireplace
Bar and lounge with fireplace and big screen TV
Deck with firepit
Boma
Relaxation retreat spa
WiFi connection
Each of Sindile's premier tents includes:
WiFi
Air conditioning
Nespresso coffee machine
International dial telephone
Fitted international adapters
Private minibar
Hairdryer
Electronic safe
En-suite bathroom with bath and shower
Outdoor shower
Private deck with heated plunge pool and lounging area under a pergola
Indoor fireplace
Lounge and dining area
Communal features of our elegant Bayethe tented lodge include:
Bush relaxation retreat spa
Gift boutique
Lounge area with TV
In and outdoor dining facilities
Outdoor deck
WiFi
Each of Bayethe's superior tents includes:
WiFi
Air conditioning
Minibar
Tea and coffee making facilities
International dial telephone
Fitted international adapters
Electronic safe
Hairdryer
En-suite bathroom with bath
Outdoor shower
Private deck and plunge pool
Fireplace
Electric blankets
3 rooms have access to indoor showers
If you like what you see and are on the lookout for luxury tent accommodation, Shamwari Private Game Reserve will provide you with unparalleled luxury and comfort during your stay. To book any of our luxurious tented safari accommodation options, please click here.
We're Ranked As One Of The Top Luxury Safari Lodges In South Africa
Shamwari Private Game Reserve is one of the finest luxury safari lodges South Africa has to offer.  We are honoured to be featured on lists such as The Luxury Safari Company's Top 10 Luxury Safari Lodges South Africa.
Our commitment to quality when it comes to our guests and preserving the local environment is what has helped Shamwari achieve this status. Sensational game viewing and intimate accommodation options close to nature are just some of Shamwari's charming characteristics. Staying with us is exclusive and extraordinarily memorable.
Today, Shamwari offers guests several lodgings to choose from when booking their stay. Each unique in their offerings and identity, yet all remaining refined and elegant. From a family-friendly safari at Riverdene, to escape to a private oasis in Eagles Crag and Lobengula, to reconnect with nature in our luxurious tented camps – there's an exceptional accommodation offering suitable for everyone's needs at Shamwari.
The Shamwari experience in its entirety is best described in by its name. "Shamwari" is Shona for "friend." There is a harmony about our private game reserve where guests can tranquilly coexist with nature – admiring the animals roaming the African bush. Our guests are treated as though Shamwari were their home away from home; the welcoming atmosphere is sure to be felt upon arrival and for the duration of your stay.
Previous guests can testify that the phrase, "arrive a guest and leave as a friend", is very much true when staying at Shamwari's luxury safari lodgings.
For a full list of our luxury accommodation offerings, click here.
Shamwari Has So Much More To Offer Than Luxury Tented Camps
Shamwari Private Game Reserve offers so much more than luxury tented lodges – it is the crown jewel of private game reserves offering a premier safari and holiday destination in the malaria-free Eastern Cape province of South Africa.
In the early 1990s, many species were eradicated from this historically ecologically rich area by means of irresponsible hunting and farming practices. Shamwari set out to rehabilitate and consolidate the land, which allowed for the increase of multiple wild animal populations over the years, including the infamous members of the Big Five who can now be found roaming the plains and valleys of our reserve. During the course of the last 25 years, Shamwari has returned the land to its original state and helped it flourish. The region is renowned for its biodiversity.
Through our conservation efforts, Shamwari has been able to offer guests abundant and unforgettable fauna and flora encounters. It's an African wildlife safari experience without peer.
Booking your stay at one of Shamwari's fine accommodation options means that you are supporting a wildly successful ongoing conservation project.
Shamwari Luxury Tented Camps Near Me
Shamwari Private Game Reserve is located in South Africa's Eastern Cape province. Access to Shamwari can be obtained by various methods of transportation, depending on where you're travelling from.
Both local and overseas guests will have to at least make the final leg of their journey to Shamwari by bus or car on the N2 highway.
Should guests not wish to drive themselves, we offer an airport pickup service from Port Elizabeth Airport at an additional fee.
For those who choose to make use of their own modes of transport, directions on reaching Shamwari's various lodgings can be found here.
Please note that non-residents are permitted to drive in South Africa, should they possess a valid driver's licence issued in their own country. It must, however, be in English and feature the photograph, as well as the signature of the holder.
Should your driver's license not meet these criteria, an international driver's license will be required.
Sindile: Luxury Tented Camps Unlike Any You've Ever Experienced Before
To be officially unveiled on December 20th 2019, Sindile is set to become Shamwari's crown jewel when it comes to the ultimate in luxurious tented camp accommodations. This elite safari camp's nine large luxury camping tents are all elevated above the surrounding bush, allowing guests access to uninhibited views of Shamwari's unparalleled beauty.
Shamwari CEO, Joe Cloete had this to say about the exquisite new Sindile camp: "We thought very carefully about the situation of this new tented camp and it is exceptional. It combines the peace and solitude of the bush with some of the best views on the reserve. Its design is the culmination of everything we've learnt at our other tented camps and luxury lodges, combining the romance of being under canvass with a premium hospitality experience."
The Sindile camp, named after Shamwari's famed leopard, mimics a solitary leopard's sanctuary: blending in with the surrounding bush, while providing excellent vantages over the Bushman's River and surrounding plains.
Sindile is isiXhosa for "survivor", a testament to the celebrated leopardess' tenacity that had driven her to survive numerous lion maulings and raise five litters of cubs. She provided guests with unique sighting opportunities, as she was prone to traverse all over the reserve. However, the new Sindile camp's location was one of her most frequently visited spots – arguably her most favourite.
Sindile forms part of the second phase of a two year US$25 million investment programme at Shamwari.
For more information with regards to the Sindile luxury tented camp and its amenities, click here.
To book your stay at the exclusive new Sindile tented safari camp, click here.
Our Guests
Our guests come from far and wide – nationally and internationally. Those who have stayed with us in one of our premier tented camps or one of our other fine accommodation options, leave with fond memories that will last a lifetime. An exquisite stay, friendly, attentive staff and an unforgettable safari experience will leave you aching to return.
We have received countless glowing reviews for not only Shamwari's various lodgings but also our services and safari excursions.
Testimonials for Luxury Tented Camps, South Africa
Here are just some of the good things our previous guests had to say with regards to our luxurious tented camp offerings:
"The most magical place on the planet! Shamwari and all the animals we saw being taken on game drives by Dillon, our amazing guide, who introduced us to the Big 5… just breath-taking. And the tents, the staff, the food… incredible. Can't wait to return." – Lesley Booth Ryan
"Truly incredible safari. My wife and I stayed for 3 nights in Bayethe tented lodge (number 12) in May 2018. We had a truly incredible experience – no words can describe how amazing it was! Overall it was the most magical and amazing experience which we genuinely can't describe and can't wait to be back. Thank you so, so much, Shamwari." – James S, Leigh-On Sea, United Kingdom
"Our favourite place. Every day at Shamwari Private Game Reserve is a new adventure. Our family of four stayed at the Bayethe tented lodge. Everyone who works at Shamwari is warm, friendly, and helpful, and every staff member makes guests feel like family. Our favourite moments were on our daily game drives with our wonderful ranger. Sitting quietly, we had lions and elephants walk close to our truck, rhinos graze right in front of us, and giraffes stop and stare curiously as they walked slowly by. Shamwari is an incredible place, with such powerful images and unforgettable moments, I can still close my eyes and imagine I'm there." – Carolyn M, Westport, Connecticut
More Testimonials
"Shamwari Explorer Camp made for a brilliant safari. Yes, Shamwari is not quite the Kruger in size, but it is very extensive and some say it can make for a better overall experience – without malaria risk. The two guides were exceptional. Walking amongst the Big Five is no picnic, but it is an opportunity definitely not to be missed! It was wonderful. We absolutely loved every moment of this weekend and would absolutely recommend. Don't miss it." – Rev. Andrew Wright, Oxford, United Kingdom
"We specifically chose the Explorer Camp, being avid fans of walking safaris and the Explorer Camp did not disappoint! Livingston style luxury camping with gourmet meals and fantastic rangers. There is also an amazing deck with excellent views which is large enough to do a workout on. We are fans and will certainly be back to Shamwari." – Laryngospasm, Calgary
Reviews specific to Shamwari's various accommodation offerings can also be found widely on the internet via a quick Google search. Trip Advisor features a variety of these reviews.
To view one such TripAdvisor review specific to Bayethe tented lodge, click here.
To view one such TripAdvisor review specific to our Explorer Camp, click here.
Things To Bring Along On Your Luxury Camping Trip
Wondering what you need to pack for your luxury tented camping trip to Shamwari Private Game Reserve? We've compiled a list of recommendations, for your convenience.
The following will help you get the most out of your visit:
Cameras, various lenses and binoculars
Light clothes for hot summer safaris
Bathing suits to use in the designated pool areas
Comfortable walking shoes
Sunscreen and hats
Warmer clothes for game drives in the night and winter stays
No need to worry about taking malaria medication – Shamwari is located in a malaria-free area.
Our gift boutiques – located at various Shamwari lodges – have some items of clothing available for purchase, should you forget something at home.
FAQs
Have any questions before making your way to one of Shamwari's luxury tented camps? We have compiled a list of our guests' most frequently asked questions.
Q: What Is The Best Time Of The Year For Game Viewing?
A: Good news! Game viewing isn't affected by either weather, the season or time of year. The wildlife is active 365 days a year. If you are looking to see something specific, talk to one of our safari experts when booking your game drive. Remember to bring along some warm clothes for your game drive, as it can get cold, regardless of the time of year.
Q: What Is The Electricity Situation?
A: South Africa's electricity supply is 220/230 volts AC 50Hz. We highly recommend that you travel with your gadgets' correct adapters, as they may be in short supply. Do be careful to check your gadgets' device specifications and requirements before utilizing our power supply source. All of Shamwari's lodgings are equipped with standby generators, in the event of a power outage.
Q: What Language Is Spoken In South Africa?
A: South Africa a melting pot of different cultures. We have a total of 11 official languages, which includes English. English is widely spoken throughout the country.
Q: What Are South Africa's Health Facilities Like?
A: Have no fear – when visiting South Africa, you'll have access to world-class medical facilities. A large network of hospitals offer excellent services. Do, however, be sure to have adequate health insurance as a safety precaution before your visit.
Q: What Currency Is Accepted In South Africa?
 A: The country's local currency is the South African Rand (R1 = 100c). The rand to major international currency exchange rate is usually extremely favourable. Foreign guests can have their VAT (value-added tax at 15%) refunded at the point of departure – provided they have access to the original tax invoices. All major debit and credit cards (American Express, Diners Club, MasterCard and Visa) are accepted by Shamwari. Shamwari accepts cash payments in ZAR, GBP, EUR and USD. Guests are, however, advised to not travel with large amounts of cash.
Q: Are Gratuities Compulsory?
A: No, gratuities are not compulsory at Shamwari Private Game Reserve. Envelopes are available at reception, should you wish to leave a gratuity. You can also add a gratuity to your final bill and settle by credit/debit card when checking out.
Q: Do All Of Shamwari's Lodgings Have Access To WiFi?
A: All of Shamwari's lodges and guest rooms provide guests with access to WiFi. Our reception/connectivity is relatively good, however is also depends on your carrier. We regret that our Explorer Camp doesn't have access to WiFi.
Have any more questions you need answering? Click here to view a complete list of our FAQs. Alternatively, you can contact Shamwari here.