Ranger Sarah is one of our lovely lady rangers that has a passion for wildlife and Shamwari Game Reserve in the Eastern Cape of South Africa. She guides out of Riverdene Family Lodge as she loves working with children that are excited to learn. Sarah is a keen wildlife photographer and takes the most beautiful pictures!
Name: Sarah Moorcroft
Title: Game Ranger
Started at Shamwari: October 2014
Hometown: Queenstown, Eastern Cape
Previous roles: I worked as a divemaster in Port Elizabeth and Mozambique and thereafter as a Field Guide at Kuzuko Lodge in the Greater Addo.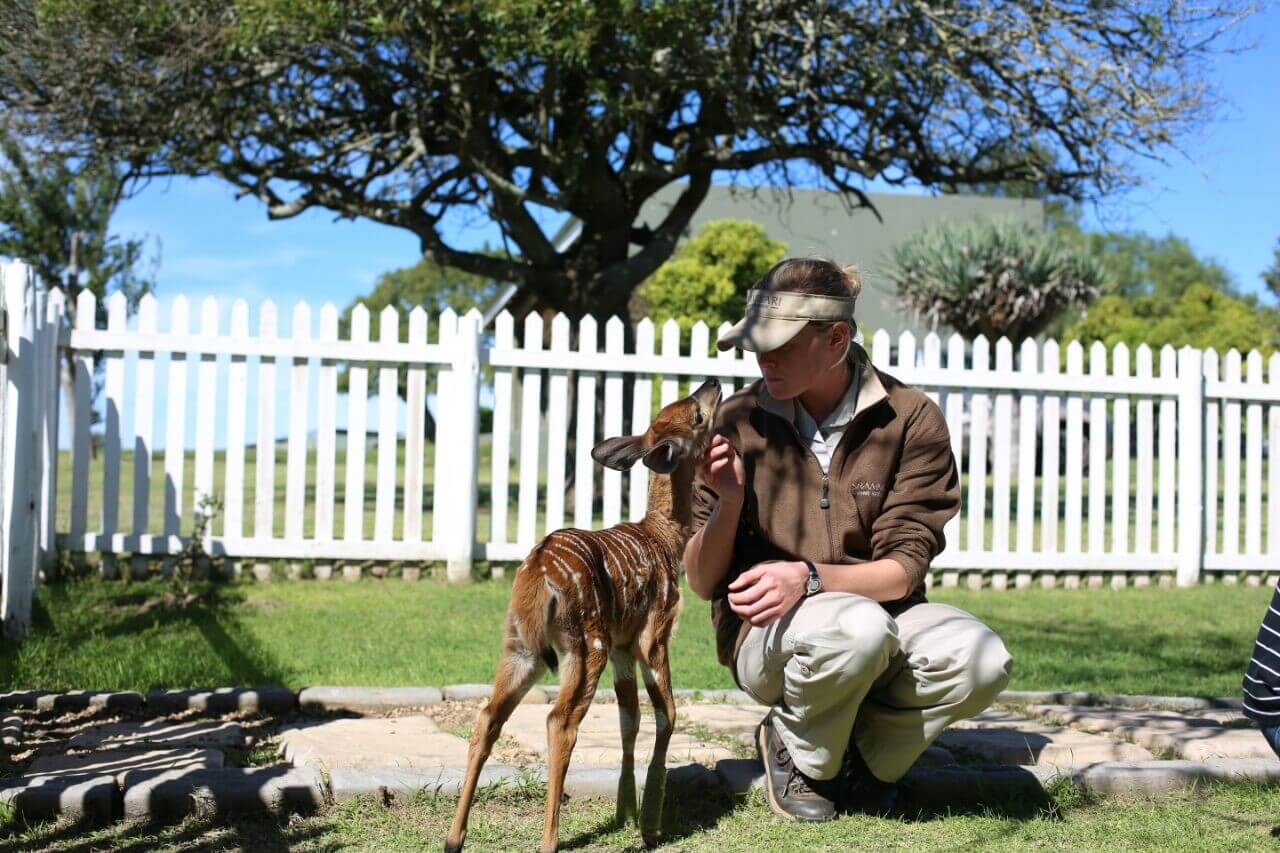 Qualification:
FGASA Field Guide
Hobbies:
Photography, I have a national diploma in photography from NMMU. My other hobbies include spending time with my fiancé which includes many fun activities, such as helicopter flying. I also love being active and playing sport as well as scuba diving.
Passion:
I am exceptionally passionate about showing guests the amazing sightings that we are fortunate to see in the wild. First time safari goers are usually my favourite type of guests as they tend to take everything in and are eager to learn about our animals. Because I have a love for photography, I love showing them how to take the best wildlife photos with their cameras.
Favourite part of the job:
I chose to guide out of Riverdene lodge as it is the family lodge at Shamwari and I enjoy guiding families with children. The children often ask challenging questions and it makes my job even more interesting. I thoroughly enjoy interacting with children when they get really excited about having to collect samples of dung and plants for their Kids on Safari programme.
"Until one has loved an animal, a part of one's soul remains unawakened" – Anatole France
Favourite animal:
Elephants!
They are incredibly intelligent and emotional creatures that are always up to something interesting. I've never experienced an elephant sighting that I haven't enjoyed because of their complex family interactions.
Favourite animal in a sighting:
A pride of lions on a kill.
It's rare to be able to witness a kill, however finding a pride of lions on a carcass is one of the best sightings to have on safari. The interaction between the members of the pride as they all try to feed off the carcass is something extraordinary because of the shear strength displayed as they tuck into the meat and the signs of aggression as they all try to claim their share.
Most exciting encounter while on a game drive:
I recently guided a family that were experienced safari goers that had been all over Africa. They came to Shamwari because they have a passion for wildlife. In three days, we had had many great sightings. On their last morning, they requested to see elephants again. We went out on the drive and after searching for a while, I managed to find them in a dense area of the bush.
We initially had a visual of two or three members. As we sat quietly enjoying the sighting, we started to hear very strange and loud noises. I wasn't too sure what was happening until we saw a huddle of a few adult females walking slowly in our direction and we caught a glimpse of a tiny baby elephant moving through the long grass. It was barely visible.
As they came closer, we realised that it was a newborn that was possibly born in the night before and her eyes were still bloodshot and she was completely unstable. Her mother was helping to keep her on her feet. She came close enough for me to get a photograph as we were the first to witness it. As I got the shot, the elephants then started to become very protective. Some of the members went in front of the mother and baby and trumpeted at me as if to ask me to leave.
I then decided to back out of the sighting as we had already witnessed something incredible! It was a first for my guests and me as it was uncommon for us to see a new-born. With elephants, we only get to see baby elephants after they are already a few weeks old. My guests were thrilled and they told me that it was one of the best sightings they have had the pleasure of seeing on safari.