We have over three hundred employees that all work together to make Shamwari a premier safari destination for our guests and every single member is essential to our success. In honour of National Women's Day, we interviewed four integral Shamwari ladies from various departments.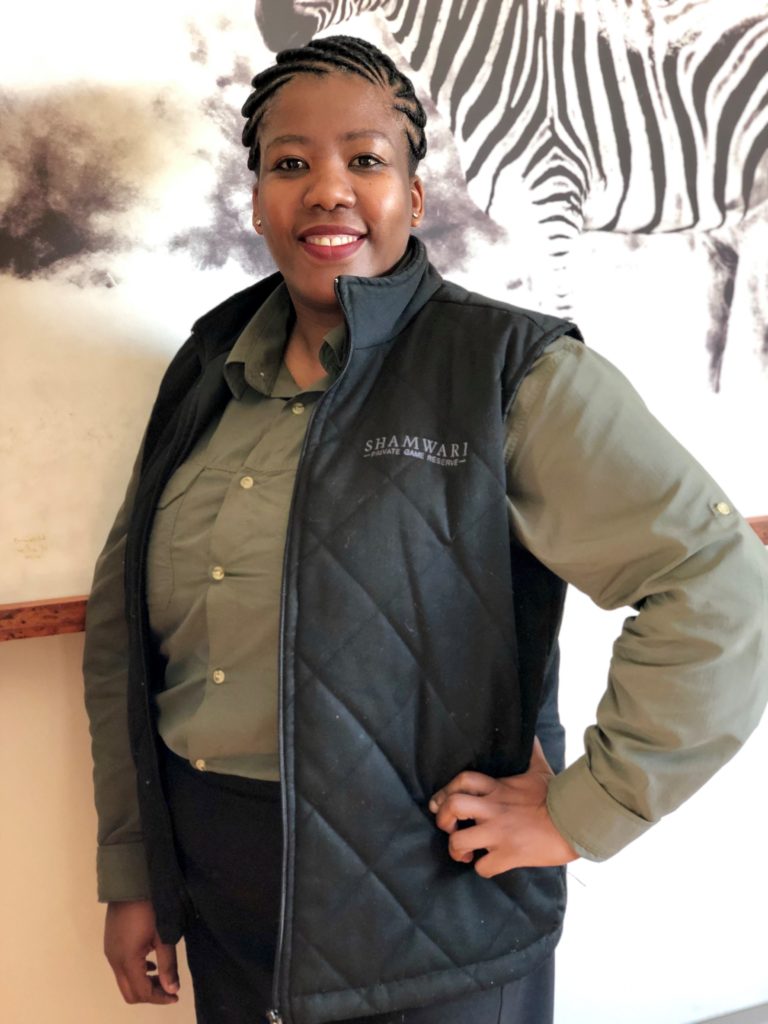 Thembisa Mahonga
Thembisa is our Reservations Manager at Shamwari. Thembisa has been with us for 13 years, working within our reservations department. She started off in 2006 as a junior consultant, worked her way up to a supervisor position in 2008 and became the Reservations Manager in 2016.
A day in the life of:
My daily life as a Reservations Manager is to facilitate dreams and sell experiences!
I have developed long standing relationships with the trade and the guests who come through directly. My team and I co-ordinate bookings for accommodation at our various luxurious lodges, arrange visits to our conservation facilities for guests, liaise with the relevant departments and suppliers to ensure guests have a memorable and most special stay.
What drives you?
The love for my job! I believe wholeheartedly in the phrase "do what you love, and you'll never work a day in your life". I love travelling, experiencing new destinations and what they offer so I am an advocate in providing excellent guest service as this is what I expect in return.
Sharelda van Niekerk
Sharelda is our Executive Chef. She heads up a brigade of 75 chefs and creates delicious food creations that tantalise our guests taste buds! She started in 2002 as a student, left in 2006 to work at various Shamwari properties then came back in 2011 and was appointed as Shamwari's Executive Chef.
A day in the life of:
I love that my days are never the same.
I love a challenge and most days there are plenty! My day will start with a phone call and often what I've planned to do will have to be on hold, usually until the next. That's the beauty of my job. I have to use quick thinking most of the time and I always find a way to make things work. My most important duties include managing all my chefs on a daily basis, creating menus, doing quality control at all our lodge kitchens to ensure that the food that my chefs are creating is of the highest standard for our guests and that the menus are followed to the last detail. This is where my perfectionist at heart comes out – presentation needs to be flawless. And there's so much more!
What obstacles have you had to overcome in your work?
I have several head chefs in each of my kitchens that then manage each team. My challenge is that each of their personalities are unique and it is so important for me to maintain a good relationship with them. Every single one of my chefs has a special place in my heart. Our team is always growing, we provide training for all our chefs. As a woman in my position as Executive Chef of the reserve, I see myself as a mentor and I am constantly trying to uplift my team. One thing about me is that I always wear lipstick, it makes me feel like I can take on the world. My philosophy is to treat people the way I want to be treated. Each day is a gift and God gives me the grace and glory to run my team to the best of my ability; holding Shamwari in high regard.
Shelley van Rensburg
Shelley is our Marketing and Sales Manager at Shamwari, covering both local and international travel in her role at Shamwari.
A day in the life of: 
I think that I have spent more time in airports and in the air than I have driving!
There are times when I travel on my own and do independent meetings with our clients, then there are times when I travel with a large group to sell Shamwari. This sometimes entails four am wake up calls to catch a morning flight to our next destination, only to start working two to three hours later and into the evening, followed by the same routine the next morning. I have learnt the art of getting the most important information across in a 7-minute presentation, repeated at least 20 times, while trying my best to not sound like a robot! The biggest challenge while travelling is trying to keep up to speed with emails. On international trips I normally travel between 12 to 21 days at a time. I love that no day is the same for me.
What drives you?
First and foremost, I believe that you must love what you do. I set work and personal goals for myself as I find that gives me direction and drive. I thoroughly enjoy a busy work environment because it keeps me motivated. I would have to say, the biggest driving factor is knowing that I am in the right career for me. Loving and enjoying what I do drives me to be the BEST that I can be. Lastly, some words of advice to fellow women: "Work hard but remember, it's also so important to have fun".
Megan Sinclair
Megan is our vet nurse and Wildlife Rehabilitation Centre Manager. She has a passion for rehabilitating orphaned and injured animals and releasing them back into the wild where they belong.
A day in the life of: 
That's a tough one because every day is unique!
There are several duties that I see to on a day-to-day basis. I make sure that all the animals get their food and are in a healthy condition, I assist the vet with any procedures, see to any new patients or sick patients, check stock for our animal hospital, place orders and do any necessary paperwork.
What obstacles have you had to overcome in your work?
With Shamwari being one of the only Wildlife Rehabilitation Centres in the Eastern Cape, we never have a shortage of people that contact us for help. Being a young female in a male dominated industry has its challenges and I found myself having to be firm in my dealings with people in order to gain their trust and respect. My track record of successful cases has also been testament to my success which had been an advantage.