Luxury living in the middle of the bush veld? Yes, your search is over and Shamwari Private Game Reserve wants YOU to experience it. Explore some of the best wildlife viewing opportunities at one of the top safari lodge destinations in South Africa.
The Safari Lodges
Adventure, wildlife, cultural enrichment and outstanding service blended together to give you a luxury African safari at Shamwari Game Reserve.
Each of our safari lodges at Shamwari Game Reserve has been designed to satisfy the main preferences of our guests. Whether you're looking for a family vacation, a relaxing honeymoon or an African Safari, there's no question that you'll find it in our luxurious safari facilities.
Forget about island holidays! Let South Africa woo you with fabulous safari lodges and a national park around every corner. Just like Kruger National Park, Shamwari Private Game Reserve introduces you to the the Big Five (Elephant, Lion, Cape Buffalo, Rhino and the Leopard) to entertain you on the trip of a lifetime.
What To Expect From Each Luxury Safari Lodge
LONG LEE MANOR LUXURY SAFARI LODGE
Long Lee Manor gives our guests the "Out of Africa" experience – a "oasis" within the bush. Long Lee Manor has very stylish interiors and is famous for it's significant views over the Shamwari plains unique to South Africa.
The layout of each room has been carefully designed to accommodate your privacy and comfort. Rooms boasts with a modern architectural feel combined with leathers, luxurious linens and textured wallpapers. Each room boasts its marble styled bathrooms, maximizing comfort thanks to the generous sized bathtubs and showers.
Other luxurious facilities:
Wide flow pool
Pool bar
Boma (Fireplace) with comfortable seating area
Spa Treatments (massages, facials and salon treatments)
Fully equipped workout center
Long Lee Manor blends luxury and tradition with a "Boma" dinner and stargazing under one of the most amazing skies on earth – South Africa.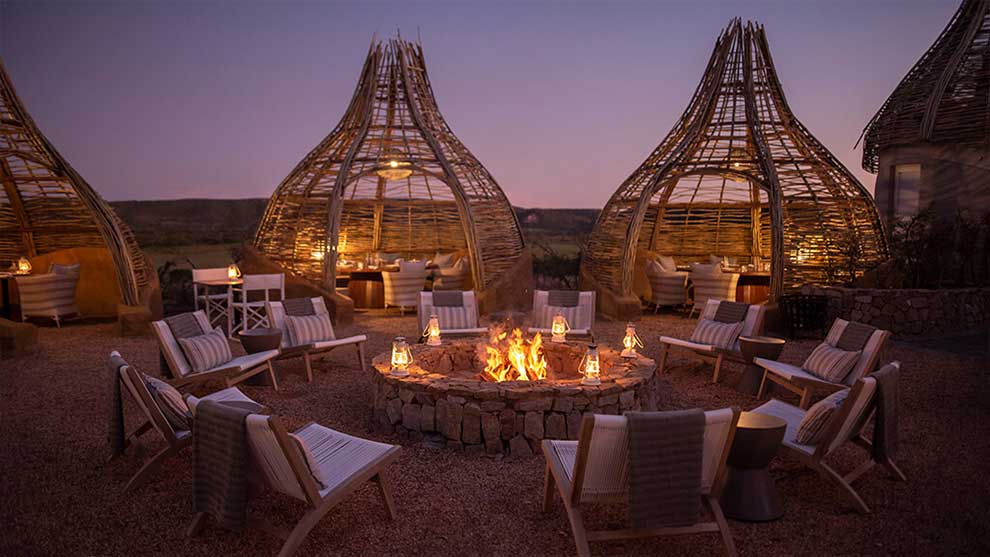 RIVERDENE FAMILY LODGE
Looking for a hotel-like experience in the heart of Africa for the whole family? Shamwari's nine-bedroom premium safari lodge assures you that your family will make cheerful memories in this magical part of Africa.
Riverdene offers spacious bedrooms which is perfect if you have a little one, two or three. Also, thanks to the interconnecting rooms, parents can still enjoy their privacy.
Other facilities:
Kids play area
Outdoor pool
Bar
Activities:
Pizza nights
Board games
Educational events
An Adventure Center – fitted out with the best games for all ages, leaving the kids in the safe hands of our professional staff.
Riverdene Family Lodge ensures a close connection to nature while, where visitors can sit back, relax and enjoy the safari experience to the fullest.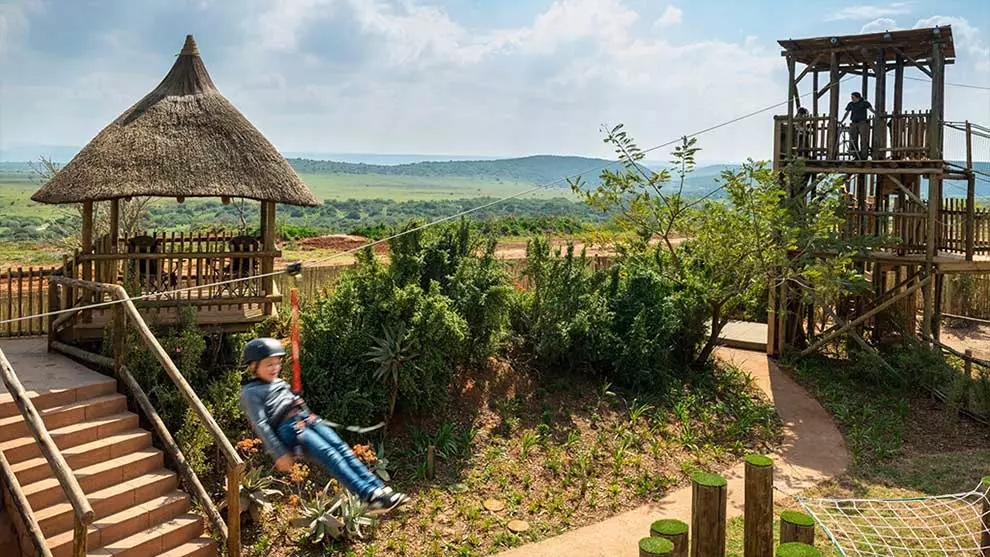 SARILI PRIVATE LODGE
Sarili is a private villa where luxurious lodging, where the emphasis is on high-quality, tailored services and privacy. Sarili, set above the grassy plains, overlooks the Bushman River, providing guests with spectacular views of the landscape. At Sarili, guests will receive a personalized experience based on their needs and preferences.
Amenities and services:
Personal staff such as a Manager, Chef and Ranger
Customized meals
Guided bush walks
In-room spa treatments (when requested)
Laundry and housekeeping
Swimming pool
Considered one of Shamwari's most indulgent and contemporary safari lodges, Sarili offers families, groups of friends and corporate gatherings an exclusive, luxurious and private stay.
SINDILE LODGE
New to the luxurious safari accommodation list is Sindile's luxury tented camps. The camp is built on some of the most beautiful grounds of South Africa. This lodge fits in perfect with the environment that surrounds it. As a result, guests can enjoy the peacefulness and spectacular views you can only get in Africa.
With spacious nine-bedroom suites, designed to accommodate two people in a room, Sindile Lodge strikes the perfect balance between nature and modern-day design.
Other facilities:
A fireplace
Private heated pool
Lovely lounge room/area
Unplug yourself from the everyday routine and dive into a experience only Africa can offer. With Addo Elephant National Park just around the corner, Sindile Lodge is one of the best luxury safari holiday destinations in South Africa.
*Children under the age of 16 are not permitted in this lodge, because of security reasons and the type of environment and experiences the lodge wants to create.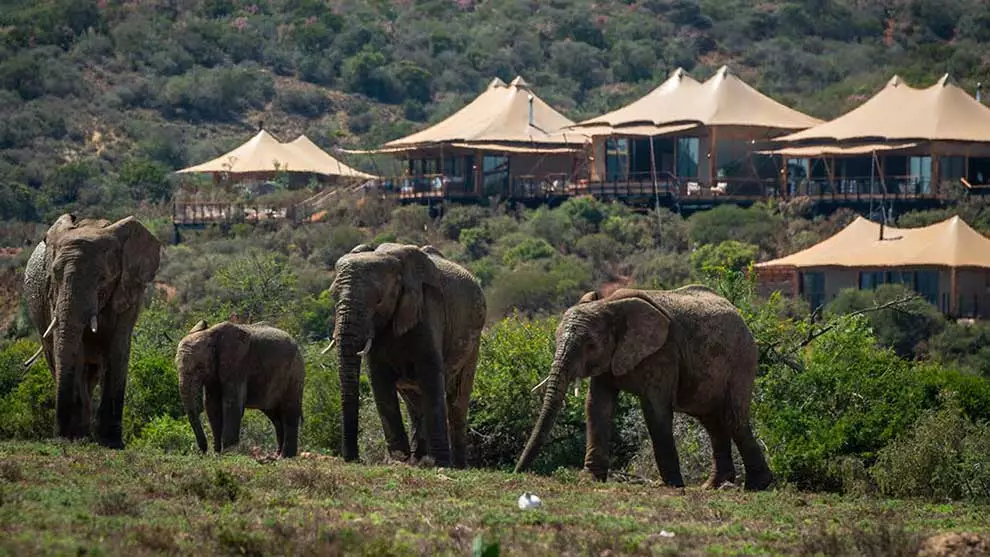 EAGLES CRAG SAFARI LODGE
Eagles Crag is situated in a forest-covered valley at the base of a cliff. This stylish safari apartment provides you the ideal balance of nature and elegance.
The renovations in 2018 have taken care of the guests desire to be closer to nature. As a result, the location of the bar area and the upper deck amazes guests seated in cozy and elegant dining pods.
The nine suites include a private deck with a heated swimming pool, an outdoor shower and an en-suite shower and a bathtub. Eagles Crag is also the perfect destination for a romantic getaway.
Other facilities:
Bar area
Fully equipped fitness center
Steam room and sauna
Heated swimming pool
If you're looking for an exclusive and lavish stay in the heart of the South African landscape, Eagles Crag will surpass all your expectations.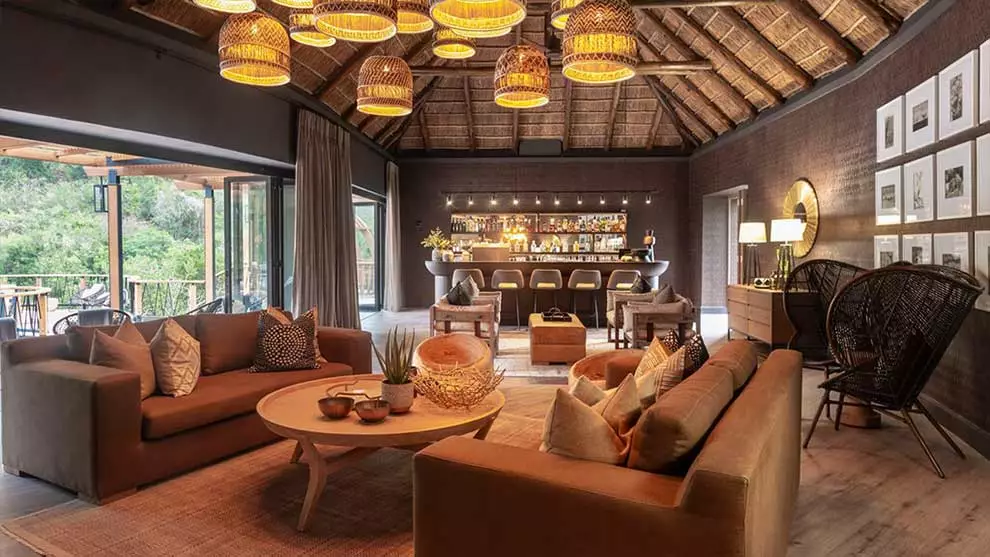 BAYETHE TENTED LODGE
At Bayethe Tented Lodge, you can experience the closeness of the wilderness while
Bayethe tented safari lodge are one with breathtaking suites which are situated right within the African bush veld.  This luxurious safari accommodation is an example of how nature and people should live together – peaceful harmony.
The lodge has 12 suites, all with:
Private deck
Swimming pool
Fireplace
En suite bathrooms with bathtubs
These suits are a celebration of luxury, space, and comfort.
Bayethe also offers incredible and intimate spa treatments for all of our guests. Indulge yourself in our stimulating spa treatments.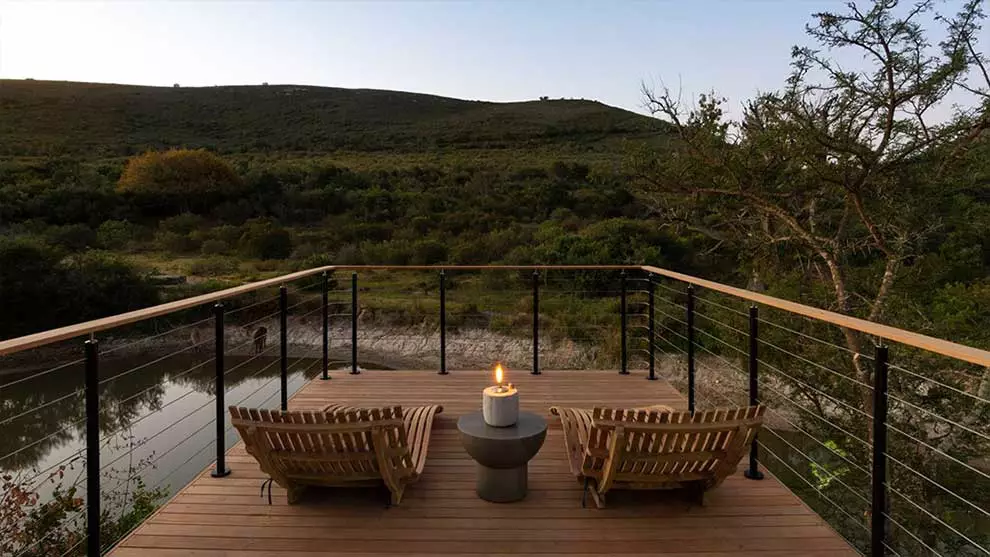 LOBENGULA LODGE
Lobengula Lodge is an African kraal style lodge where the traditional African design is combined with a wide variety of modern facilities and services. The lodge is situated at an amazing spot: the bush veld. This geographic position displays the beautiful views of the valley and the mountains that surround it.
Lobengula has six suites, accommodating two adults each. Three of them have a deck with a plunge pool, while the other three boast with a private patio. You can't go wrong with these spacious suites, beautifully decorated to make you feel at home.
Other facilities:
Spa treatments at our Relaxation Retreat
A sauna room
Fully equipped workout space
Main swimming pool
For the more adventurous, once in a lifetime African bush experience, stay at Lobengula Lodge!
EXPLORER TENTED CAMP
Yes, during summertime, Shamwari offers a fully back-to-nature experience: The Explorer Camp. Although it was designed by 'going back-to-basics', the quality of the camp and the services remains a luxurious adventure.
The tents are close to each other, but privacy remains a priority. Each safari tent has two single beds, which can be turned into a king size bed, and also an en-suite bathroom with shower.
Some of the facilities include:
Viewing deck
Plunge pool
Dining and safari lounge tent
It is important to highlight that guests will have different activities from the ones available at the main lodges, because the main goal is to reconnect with nature.
The leading star of the Explorer Camp is the walking safari's, which enables guests to enjoy nature at its fullest and closest as never before.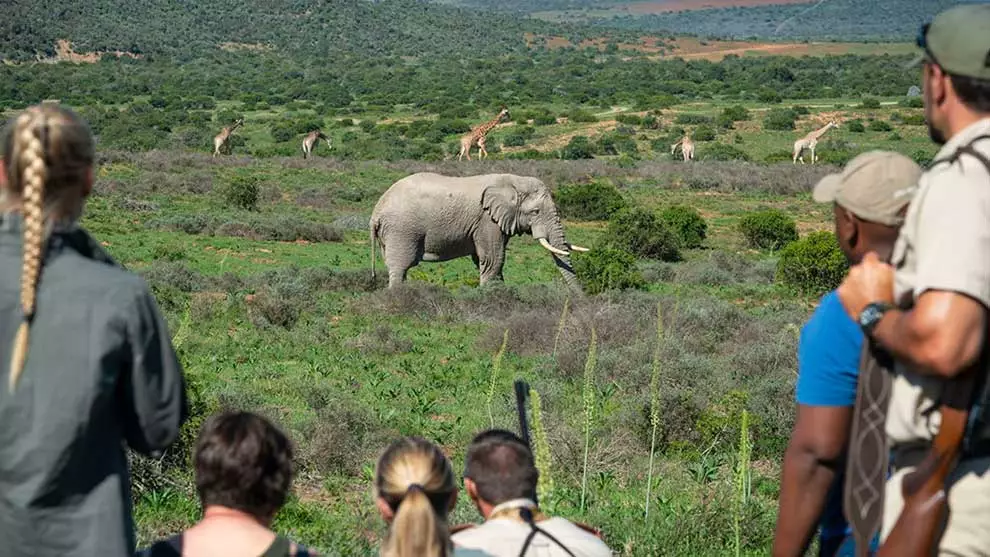 What makes Shamwari's Luxurious Safari Lodging stand out?
Every lodge was designed and created to give guests a once-in-a-lifetime experience. From the materials used during construction to the furnishings, decorations, colours, scents and its geographical location. Every single detail was taken into consideration in order to bring to life an outstanding place. A place where guests have a taste of Africa while enjoying the finest of finest. These lodges have proven to perfectly combine adventure and nature with luxury and comfort. Among its activities, game drives are conducted by experienced rangers, who do their absolute best to give their guests the best African safari experience. Also, if you are feeling keen for a day trip away, Shamwari Game Reserve is located just over two hours from another Mountain Zebra National Park, close enough to still make it back for your favourite Shamwari dinner.
Get to know the Big Five across Shamwari's 25,000 hectare preserved bush and watch the African sunset while having your favourite beverage at hand. All of this, accompanied by the very best local cuisine and amazing staff members, Shamwari conveys an important message regarding preservation of wildlife. The greatness of being so close to a well known national park – Addo Elephant also thrills guests. While guaranteeing guests an exclusive and luxurious stay that will make everlasting memories, Africa's Shamwari stands out between other luxury safari lodges. All rights reserved.
Look no further for one of the best safari lodges in South Africa
When South Africa calls, one simply have to answer! So, what are you waiting for? Make sure to book your luxury African Safari on our website today. Make the most of your vacation with all the spoils Shamwari has to offer!
Other destinations to visit AFTER you visited Shamwari, are the Okavango Delta in Botswana, Kruger National Park in South Africa, Masai Mara in Kenya, Sabi Sands and the Ngorongoro Crater. *Note: Sabi Sands is a private concession at Kruger National Park.
Sign up and receive our newsletters via email and also give our Social Media pages a follow to make sure you stay updated. T&Cs apply and all rights reserved.