One of the attributes which distinguish Shamwari from other private game lodges is the unique experiences you can choose from. Aside from what your options might be, luxury is one of the best adjectives to qualify these South African lodges. Head on a Luxury Safari at Shamwari now!
The Safari Lodges
Each of our safari lodges was created to fulfil our guests' main preferences, whether you are looking for a family holiday, a peaceful honeymoon, or a back-to-nature experience. There is no doubt you will find it in our luxury safari accommodation. The Shamwari experience is complemented by the best local cuisine, thoughtful service and amenities designed to provide the ultimate in comfort and enjoyment.
What to Expect from Each Luxury Safari Lodge
 Long Lee Manor
Privacy, comfort and incredible landscapes characterize our fully restored lodge. Long Lee Manor gives our guests the "Out of Africa" experience; it could be described as an "oasis" inside of the bush. The design of each space was carefully built to radiate elegance and tranquillity. Leathers, linens and textured wallpapers can be found in our interiors. Suites are bright and spacious; with marble-styled bathrooms to enhance their luxury thanks to their generous bathtubs and showers.
Just as with the interiors, our exteriors were planned to provide comfort and delight. The pool bar, with its traditional designs, gives guests a panoramic view of the bush and its waterhole, where many animals seek refreshment. During hot summer days, guests can cool down by the large-rim flow pool while enjoying some drinks and the natural display provided by the magnificent bush life.
Guests who might be seeking some "me-time" can also enjoy a quick session at our fully equipped fitness centre, or if they want to truly relax, Long Lee Manor offers a wide menu of Spa Treatments, including massages, facials and salon treatments.
Long Lee Manor perfectly combines luxury and tradition in its safari accommodation. During the stay, guests can enjoy a "Boma" dinner, where the African experience comes to life.  Savour South Africa's local cuisine by a bonfire under the stars.
Riverdene Family Lodge
This safari lodge was built to create everlasting memories for families. The bedrooms are spacious which is ideal for the little ones, but parents will also have their privacy thanks to the interconnection between rooms. Cosy, familiar and warm are the best adjectives to describe Riverdene. Shamwari's nine-bedroom luxury safari accommodation ensures all family members a unique experience. Our adventure centre, equipped with the best games for all ages, lets parents relax while knowing that their kids are safe and having a blast thanks to the professional staff, which is always taking care of them.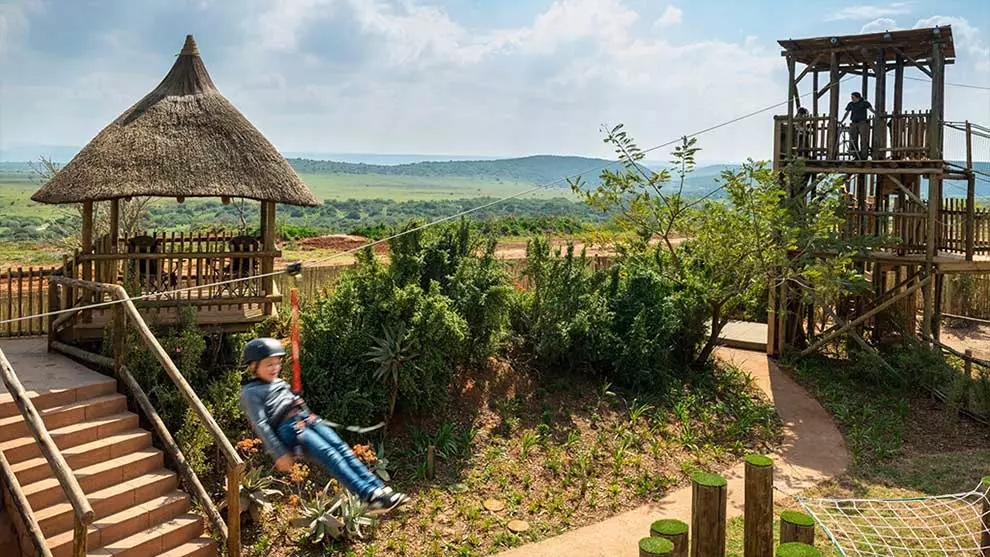 While kids are playing, guests can relax by the pool, have some drinks at the bar, and, if mothers want to have the spa experience, they can always book a treatment at Long Lee's spa just around the corner.
Riverdene Family Safari Lodge allows parents to sit back, relax and enjoy the safari experience to its fullest. Fully equipped bedrooms, comfort and luxury blend perfectly with pizza nights, board games and educational activities. If you are looking for an exclusive experience while enjoying family cosiness and the "at-home" feeling, Riverdene is undoubtably the answer you are looking for.
Sarili Lodge
As of June 2020, families, groups of friends and corporate gatherings will be able to enjoy an exclusive and luxurious private lodge. Sarili, located above the grassy plains, overlooks the Bushman's River, providing guests with incredible views over the landscape. When booking Sarili, guests receive a fully customized experience based on their needs and preferences. Therefore, each experience is unique, since we are providing an exclusive, tailormade service.
Among these services, guests will be provided with personal staff such as a Manager, Chef and Ranger, personalised meals, in-room spa treatments (when requested), guided bush walks, laundry, housekeeping, a swimming pool and so much more.
We believe that by turning Sarili into a private villa, guests will experience an exclusive stay. Privacy and tailored services are the most important features Shamwari Private Game Reserve will provide for you to take home an experience were luxury and adventure come together.
Sindile Lodge
Sindile is our new luxury tented camp. The nine-bedroom safari accommodation is secluded and built into the deep African grounds. It was created based on a solitary leopard's sanctuary, which allows it to blend with the nature surrounding it. Due to this, guests will delight themselves with impressive viewpoints of the bush and its hidden location allows them to directly get into contact with nature and all that comes with it.
Inside the luxurious tented rooms, guests will enjoy unrivalled peacefulness and panoramic views, which are free of any light pollution or man-made structures. Suites are designed to accommodate two people. It is important to highlight that children under 16 years old are not permitted at this lodge, both due to security reasons and to provide guests with tranquillity and calmness. You will also have a fireplace, a private heated plunge pool and lounge area.
You can also enjoy a spa day to unplug yourself from daily routine and deep-dive into the South African experience, letting your senses fuse with nature.
Eagles Crag Safari Lodge
This is where sophistication, privacy and exclusiveness become one. Eagles Crag, renovated in 2018 and located in a forest-covered valley at the base of a cliff, achieves the perfect equilibrium between nature and elegance. Guests immerse themselves in the forest, where the chirping of the birds becomes the main melody. The lounge area is accompanied by a delicate bar and its upper deck, surrounded by tranquil dining pods, lets guests amaze themselves by the untouched beauty of nature.
Among its amenities, Eagles Crag offers guests a downstairs lodge to relax in, a fully equipped fitness centre and a relaxation retreat with a steam room and sauna. The nine suites have their own private deck with a heated swimming pool, outdoor shower and an en-suite shower and bathtub. The picturesque windows of the suites provide guests with breath-taking views, allowing them to dive into nature and its pleasures.
Eagles Crag is the perfect destination for a romantic getaway as well. We must point out that children under twelve years old are not permitted to stay at Eagles Crag, which also contributes to maintaining the lodge's tranquillity. If you are looking for an exclusive and sophisticated stay without leaving behind the South African landscape, there is no doubt that Eagles Crag will exceed your expectations.
Bayethe Tented Lodge
As with the other safari lodges, Bayethe offers guests peacefulness throughout the seclusion of twelve superior tented suites located just inside the African bushveld. These breath-taking suites have a private deck and plunge pool, a fireplace and en-suite bathrooms with bathtubs. As with Eagles Crag and Lobengula, children under twelve years old are not permitted to stay in the lodge; this reassures guests they will find the calmness they seek.
If you are willing to take a day off, Bayethe offers incredible and intimate spa treatments for all our guests; indulge yourself with our relaxing spa treatments!
This luxury tented lodge is an example of how harmoniously nature and people can coexist, always preserving our natural resources. Let yourself immerse into the serenity of Bayethe Tented Lodge and live life to the fullest with this one-of-a-time adventure.
Lonbengula Lodge
This African kraal styled lodge has six rooms, where traditional African style comes together with multiple modern amenities; three of them also have private plunge pools. However, the lodge also has a central swimming pool so that any guest may have access too.
Lobengula also offers guests multiple spa treatments at our Relaxation Retreat as well as a sauna room. For those who are willing to get a little more active, the lodge also has a fully equipped fitness room.
Just as all Shamwari Safari Lodges, Lobengula is located at an amazing spot: the bushveld. This geographic spot depicts the astonishing sights of the valley and the mountain which surround it.
Explorer Tented Camp
Yes, during summertime, Shamwari offers a fully back-to-nature experience: The Explorer Camp. It was designed by 'going back-to-basics', but even so, the quality of, not only the tented camp itself, but its distinguishable services, turn the Explorer Camp into another one of Shamwari's luxurious adventures.
The tents are close to each other, but not too close to disrupt guests' privacy. Among its facilities, you will find a viewing deck, plunge pool and dining and safari lounge tent.
However, it is important to highlight that guests will have different activities from the ones available at the main lodges. As the central goal is to reconnect with nature, walking safaris is the leading star of the Explorer Camp.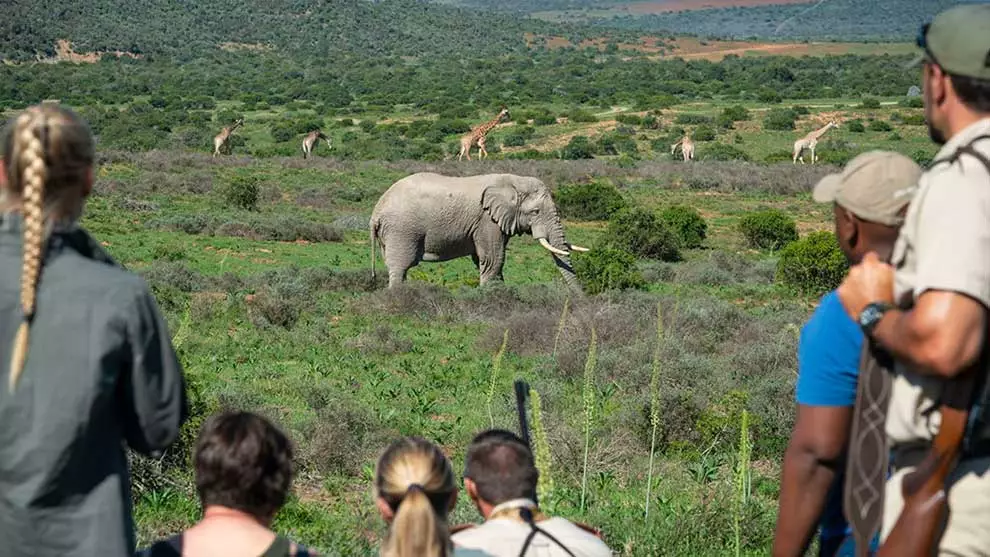 Each safari tent has two single beds, which can be turned into a king size bed; en-suite bathroom with shower; LED light and essentials such as insect repellent, shower gel, shampoo, among others.
This is an awe-inspiring opportunity in which guests can enjoy nature at its fullest as it has never been experienced before.
What makes Shamwari stand out? Luxury Safari Accommodation
Every lodge was designed and created to give guests a once-in-a-lifetime experience. From the materials used during construction to the furnishings, decorations, colours, scents and its geographical location, everything was elaborately thought of to bring to life an outstanding place, where guests have a taste of Africa while enjoying the finest safari accommodation. Every single detail was taken into consideration in order to create and provide the ultimate bush experience. As mentioned before, these lodges have proven to perfectly combine adventure and nature with luxury and comfort. Among its activities, game drives are conducted by experienced rangers, who do their absolute best to give their guests the best African safari experience, while teaching about conservation and importance of human action.
Live the safari experience to its fullest; get to know the Big Five and, when the sun goes down, have a glass of wine inside Shamwari's 25,000 hectare preserved bush. Staff members are always available to make sure that guests are comfortable, all of this, accompanied by the very best local cuisine. Shamwari conveys an important message regarding preservation of wildlife while guaranteeing guests an exclusive and luxurious stay that will make everlasting memories.
Look no Further than Shamwari for your Luxury Safari Accommodation.
So, what are you waiting for? Make sure to book your luxry African Safari today at Shamwari. Make the most of your vacation with all the spoils Shamwari has to offer!