Ranger Janco joined the Shamwari ranger's team at the beginning of the year and has complimented the team. He is humble, passionate and filled with knowledge of the African bush.
Name: Janco Du Plessis
Title: Game Ranger
Started at Shamwari: 06 March 2018
Hometown: Colesberg, Northern Cape
Previous roles: I started my career at Botlierskop Private Game Reserve in 2009. And then I worked at Kapama Private Game Reserve for approx. four years in the lowveld. Thereafter I worked in America as a farmer. After a few years I came back to South Africa to work as an assistant game farm manager at Hunters Moon. Lastly, before working at Shamwari, I worked at Amakhala Game Reserve where I was the assistant head ranger for two years.
Qualification:
FGASA Advanced Field Guide
Track & Sign Level 2
Diploma in game lodge management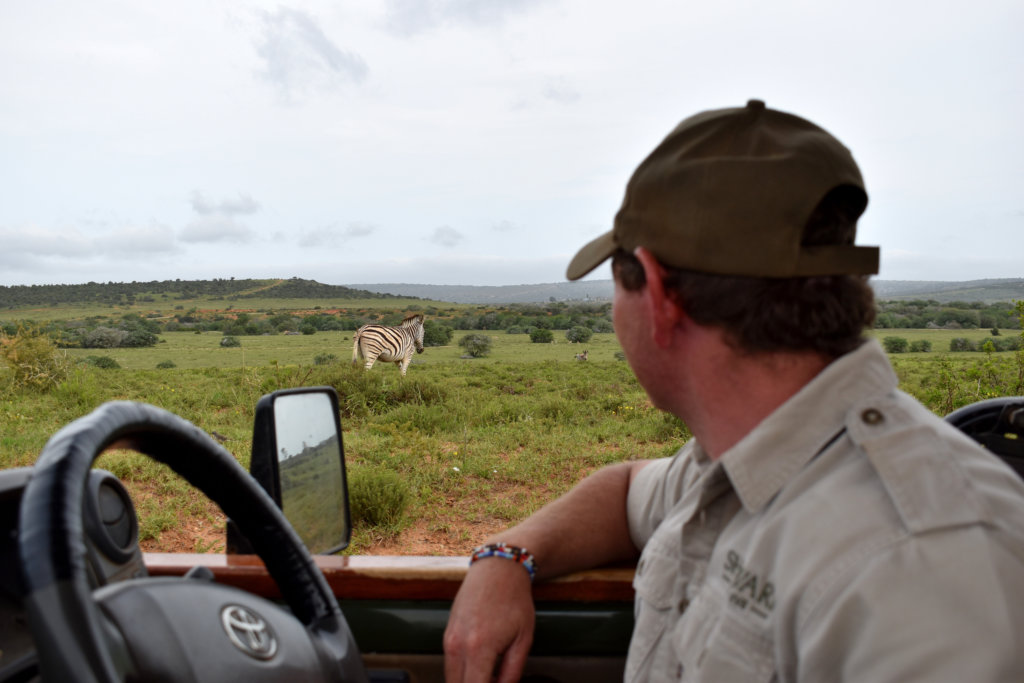 Hobbies:
Photography, squash and golf
Passion:
vc
Favourite part of the job:
The favourite part of my job is to find a track out in the bush, and actually find the animal by tracking it and using the knowledge that I have. It gives me great satisfaction to find an animal and have the guests view it. They get to see the experience of finding a wild animal in nature.
Quote:
"You can either sit in a corner and be miserable or you can stand up and show the world what you're made of" – something I live by
Favourite animal:
Honey badger.
The honey badger is an animal that never gives up. Although small, they are ferocious.
Favourite animal in a sighting:
Leopard.
They are extremely elusive and as a guide, so it's an exciting challenge to find them and here is just something special about them. In my opinion, humans can learn from them when it comes to what they have to do to survive.
Most exciting encounter while on game drive:
I was guiding out of Bayethe Tented Lodge and it was the first drive with my guests. As we left the lodge to go out on game drive one of my colleagues called in that he had seen a leopard walking across the road. I made my way to the area where it was last seen and as we got there the leopard disappeared into a valley before we could catch sight of it.
After a few minutes of waiting, it didn't show itself. We were quite disappointed and then decided to go the other side of the valley to see if we could find it on that side. Visibility was poor with the thick vegetation, however I wanted to try my best to find it. On our way to the other side we saw giraffe and elephants. Although my guests were thrilled to see these animals, in the heat of the moment I convinced them that we must use the opportunity to find the leopard and relocate it and that we would come back to view the elephants and giraffe.
After a while of searching and listening on the other side of the valley, we came up empty and couldn't find it. We then suddenly heard bushbuck making alarm calls and I told the guests that it's a warning sign that the leopard is more than likely in the area.
The next moment the bushbuck came running out the thicket and the leopard was following right behind it. It stopped and stood looking at us from about 20 metres from the vehicle. It was incredible, he was relaxed walking around the vehicle while marking his territory. My guests were in amazement and were thrilled that they had decided to pursue looking for the leopard. It was such an amazing sighting after spending about half an hour looking for this elusive creature.